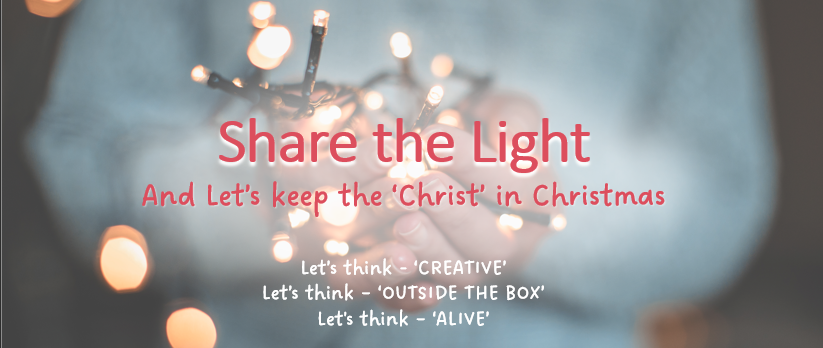 01 Sep, 2023

Christmas Creativity

This collection of ideas is written by Sarah, one of our Shining Lights Trust team members. She is especially active in children's ministry, and very creative!
---
1 Peter 4:10 "God has given each of us a gift from His great variety of spiritual gifts to use them well to serve one another" 
As Christmas approaches each year, we are presented with another wonderful opportunity to put to use the gifts that God has given us.
Let's use these gifts to shine a light on Christ and His story this Christmas.
Below is a collection of ideas to spark your imagination and bring ideas to life. Web-links included in this blog are for ideas and reference only – they go to various websites, none of which we directly endorse.
1. Let's get CREATIVE with our Nativity Scenes
There is no better way to teach and remember the story of God coming to earth than through the NATIVITY. We can create both big and small using the resources we have around us wood, rocks, shells, buttons, paper, card and make something truly unique.
There is no limit to where they can be displayed.
How about windows, walls, gardens, stands and letter boxes – let's be inspired to think CREATIVELY in both creating nativity's but also in placing them.
Use the whole creative process to spark discussion and conversation.
Building a nativity can even be a craft activity at an outreach. We can use the creative process to open the door for conversations. Asking people if they have any spiritual beliefs or if they celebrate any religious holidays at this time of year can often lead to deeper discussions about faith, values and beliefs.
We can share our own personal experiences of how God has impacted our lives, which can encourage others to share their stories too.
Whatever approach we take, let's remember that our ultimate goal is to point others to Jesus and share the hope and joy He brings.
Let's be bold and creative in our evangelism this season. 
NATIVITY JARS
Why not give a NATIVITY jar a go. They can be created with paint, stickers or even a sharpie. Add LED tea-lights to enhance the effect. You can create multiple jars to display the entire nativity scene or add some twine to hang them from different places around your home, work, church or classroom.  Experiment with different lights, colours or patterns and see where it leads, there are endless possibilities. Click HERE for a great idea we found online.
NATIVITY ROCKS
Nativity rocks are another fun idea. They can be made by using paint with a waterproof sealant or you can just use nail polish. The great thing with these is when you are finished you are able to place them in different locations around your community for others to find (Parks, playgrounds, near sidewalks or even on the beach ).There is always the option of adding a verse on the back as well.
2. Let's think OUTSIDE THE BOX to help people go deeper
With the lead up to Christmas comes advent. We can help others become more intentional in how they celebrate and participate. It's about so much more than good food and presents.
An opportunity to slow down and go deeper.
CREATE YOUR OWN ADVENT CALENDAR
Why not create your own advent calendars. We found these great Advent Calendar boxes online. Click on the image and be inspired. Think outside the box with what is inside. You could add scripture, daily questions, tasks, gifts or little games.
TAKE THE TIME TO GIVE A GIFT 
Each day of advent we can give a gift or encourage others to do so. It could be the gift of time, words of encouragement, lending a helping hand, sharing a meal with someone, or simply letting others know they matter. Let's embrace the true spirit of giving and make each day leading to Christmas a meaningful and heartwarming experience for ourselves and those around us.
Isaiah 11:1 "A shoot shall come out from the stump of Jesse, and a branch shall grow out of his roots"
THE JESSE TREE
Each day read a passage about someone on Jesus's family tree and hang an ornament that represents the story. Let's tell the story of the Bible from creation to the Christmas story. Scripture Union NZ have this free printable Jesse tree (click the image) that you can use at home, church or even at work. Or have a go at making your own tree – a mobile, felt, paper, tree branches or possibly use your own Christmas tree.
Let's all be a part of advent
We can all come together and be part of Advent, celebrating it in our own unique ways.
Let this be a journey of both spreading the message and enriching our own connection to this special time of year.
3. Let's TELL THE STORY in ways that are fun
God's word is not simply ink on paper or text on a screen – it is alive!
Let's bring His word alive this Christmas by bringing the story alive.
Compete in a MINUTE TO WIN IT 
Who doesn't like some good friendly competition especially when it's centered around the heart of Christmas. A series of quick games that can be played in teams or individuals. Maybe you have sixty seconds to wrap one team member up in toilet paper like Mary wrapped baby Jesus with pieces of cloth, or possibly be the first team to pack their donkey ready for travel to Bethlehem. The possibilities are limitless.
We can embark on a SCAVENGER HUNT
The great thing about a scavenger hunt is it can be approached in so many different ways. You can focus on finding items that relate to the Christmas story. Maybe a star that the wise men followed or some sheep that were in the shepherd's fields. It can be a series of riddles and clues that lead you to different locations all based around the nativity. Then there is the option of using scripture at the center of all your clues. Each idea can be adapted to fit a group of any ages. Click HERE for a great idea we found online.
Put our skills to the test in an ESCAPE ROOM
Maybe you are the shepherds in the field, and you need to decipher the clues in order to find your way. Or possibly the wise men following the star to Bethlehem, but are faced with a series of riddles, obstacles and codes that need to be cracked in order for you to continue on your way.
We have found some great free resources for you to use or just springboard from and make your own. They all focus on the story of Christ's birth in a fun and interactive way. It's a great way to reach out to our wider community and promote connections.
A Fun Creative way to share Christ this Christmas with ALL
We hang lights on our houses, adorn our businesses with decorations, and our Churches with mangers. But the best thing we can do at Christmas is to decorate ourselves…
…with the love of God, the Joy of His salvation and the great Hope we have in His birth.
The People Tree is a great game that sparks this idea and hopefully encourages those sparks to fly.
Get ready to bring your creativity to life and make it uniquely yours! Follow the link via the image and immerse yourself in the beauty of the idea.
Add Bible verses that resonate with you, telling the story of Christ and sharing the remarkable things He has done. As you set up the base of the tree, let your imagination soar – wrap it in colourful wrapping paper, plain paper, even toilet paper or gladwrap – whatever you like. This is your canvas to write on, expressing your heartfelt messages and reflections. Embrace this opportunity to make the story of Christmas come ALIVE in a way that truly speaks to your soul and brings joy to others.
Christmas is an opportunity…
This time of year can bring its challenges; financially, emotionally and relationally – let's be intentional about sharing this great hope that is so desperately needed.