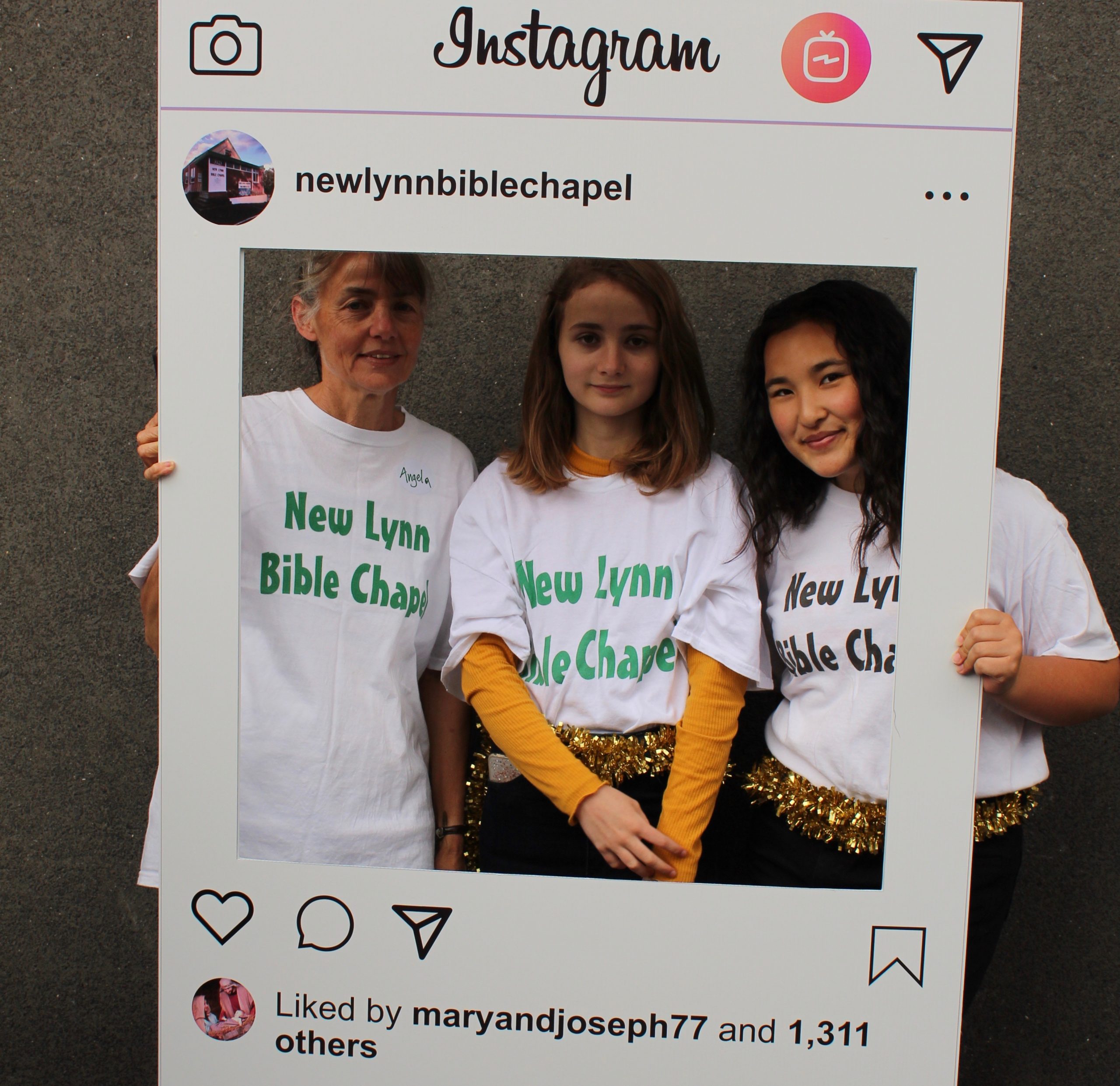 10 Aug, 2021

Nativity Ideas
Christmas Family Events – the New Lynn story
Focusing on Hope Project Christmas we look at community involvement – why not try some of these great ideas?
The New Lynn Bible Chapel share their story and bring some fantastic ideas anyone can use.
"SETTING THE SCENE"
The New Lynn Business Association run an outdoor Christmas Family event with prizes, local community groups have static displays and also a stage with music and Santa makes an appearance and there are elves on stilts wandering around – it's all very light hearted and a generous atmosphere.
Several years ago the New Lynn Bible Chapel started to be a part of this and they have been invited back year after year. Here's why.
When there is space, we have a large marquee which we decorate as a stable and have a whole stage set of the nativity scene. Hay bales if we have them, fences, piles of blankets, bags, even Joseph's sandals, a crook, lanterns, manger, fruit and flat bread on a platter, anything that looks authentic. A few people from church dressed up are sitting there – a baby if we can get one, or a doll.
People photograph the scene and even come in and pose with the family … sometimes we have provided small shepherd outfits so kids can be in the photo and look the part. Doting parents photograph their children and get the nativity thrown in the background!  One year we borrowed 2 kids (the goat kind) from a Waikato farmer and they were a HUGE success.  With everyone except the organisers – apparently I was supposed to tell them because we needed to have a vet on site ….. for years after that I was asked "You aren't bringing any sheep this year are you?"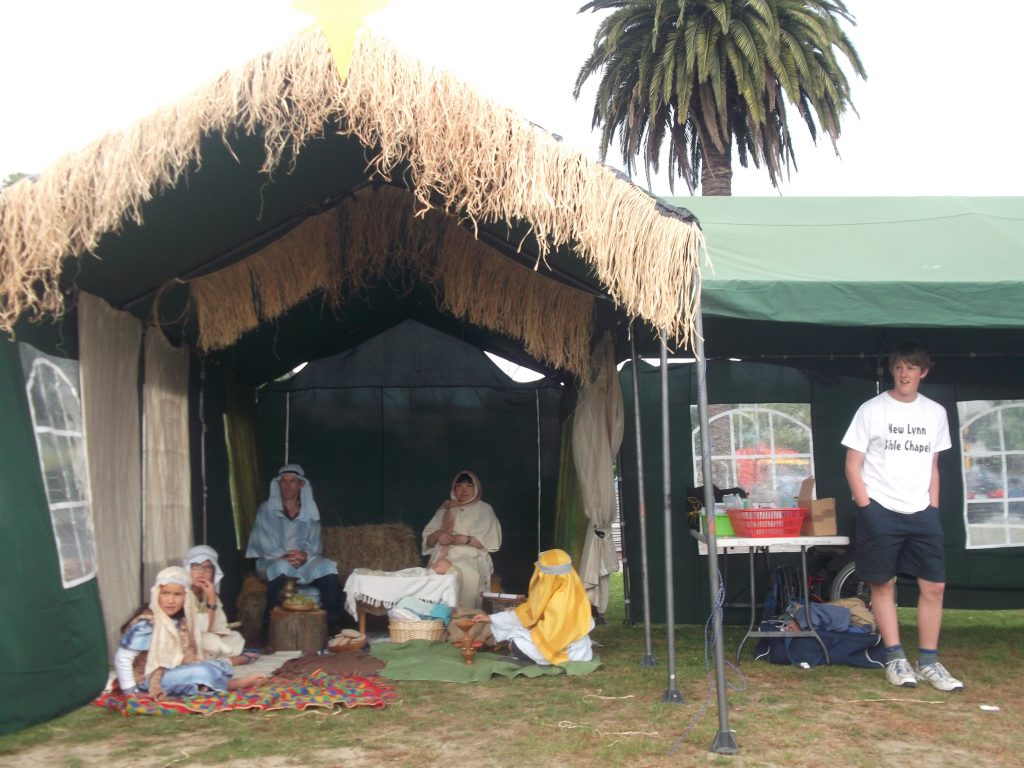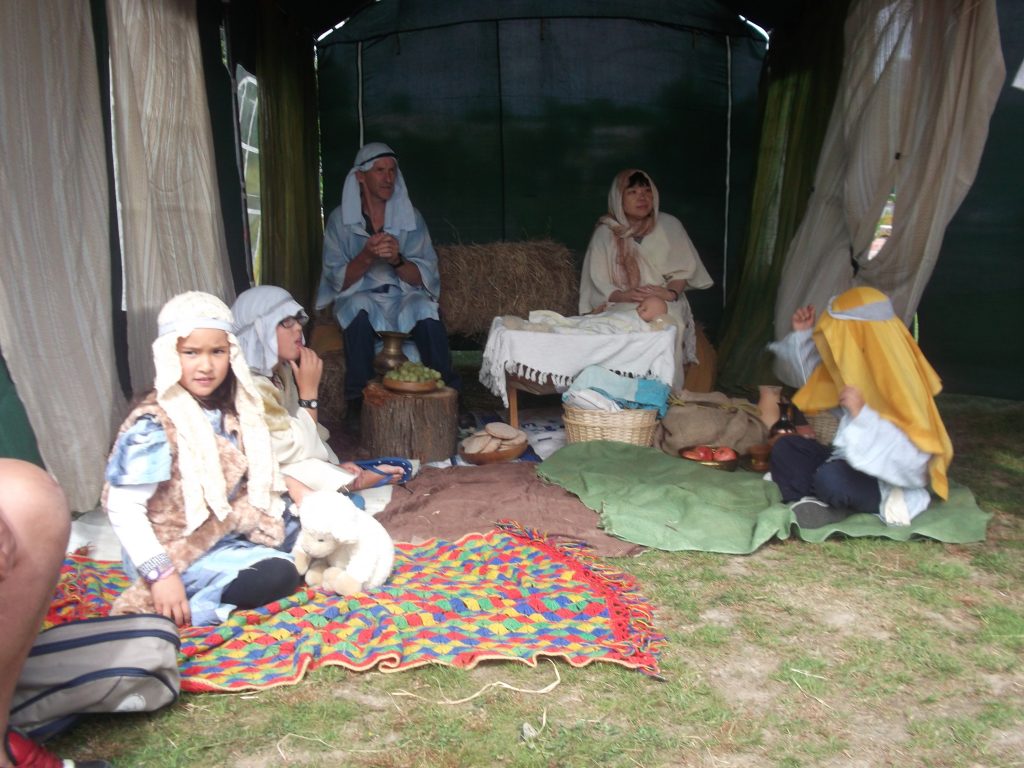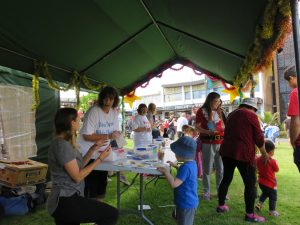 Alongside we have another marquee where we have a table and kids come and decorate a star-shaped cookie.  We provide lollies (lots of lollies) and icing pens so they can scribble in icing and drop lollies on.  The cookies are placed on a piece of card which explains the significance of the star in the Christmas story to take away.  We give the kids a cellophane bag with a copy of the Christmas story book from the Bible Society or one of their great little activity booklets.  It also includes a couple of lollies and a little party favour (so its not all lollies). And an invitation to our next Church event – which is usually a Community Christmas dinner , plus outlining our regular Church events.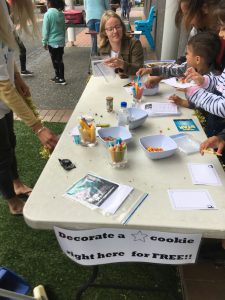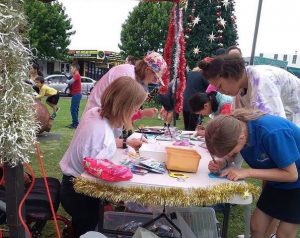 While the kids decorate the cookies we have a chance to talk to the parents who are often photographing their children, or to the children themselves about the real meaning of Christmas. We usually go through 300+ cookies in 3 hours. They are made by families in the Church. Nowadays we have gluten-free cookies as an option and also have a copy of the recipe handy for parents who ask.
3. OUR PART IN THE SANTA PARADE
The local Lions Club has a Santa Parade – we have been in it for about 18 years (I know, because the baby we used the first year is getting married this year) – for a few years they stopped as the cost was prohibitive an the Council restrictions ridiculous. But last year they started up again. 18 years ago there were 3 church groups in it. Now we are the only ones.  We get invited and we don't get charged while local businesses have to pay several hundred dollars. The Lions Club want us there "to show people the real meaning of Christmas" which we think is a huge privilege.
We dress up – we have masses of costumes made from old curtains etc … and we have Mary and Joseph and a baby (or doll) and any number of villagers, angels and shepherds wandering along with them. We haven't done a truck for a number of years but we are thinking we will do a truck again this year as you can decorate it and put banners on it.  One year we borrowed a donkey! I had to walk behind it with a brush and dustpan hidden in my shepherd's outfit in case it pooed on the road – which it did.  You do have to follow the organisers' guidelines. We are not allowed to give anything to the crowd now because of litter. We used to be able to give out leaflets and lollipops.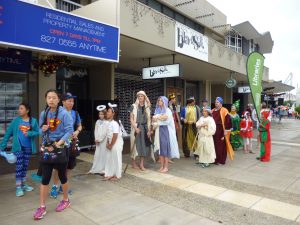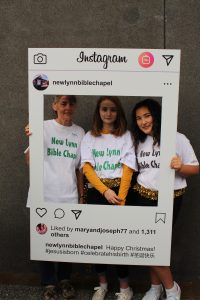 SOCIAL MEDIA FRAMES: We created a Facebook and Instagram frames for people to photograph themselves in. If there is a parade we had some teens walking along with them and getting people in the crowd to pose.
MUSIC: Some years we have also had some of our teens playing Christmas music – but there is so much other noise and music, that became unrealistic. Some years we have run a short gospel magic show alongside. We have Church tee-shirts to identify our people and we have piles of Christmas tracts to use as conversation starters for the evangelistically brave.
NOT ALLOWED FOOD? For 2 years we were not allowed to give out food – something to do with the local cafe complaining – so we had the kids decorate little star shaped decorations to hang on a tree with the Nativity scene in the middle that they coloured in.
DECORATIONS: One year we did Christmas light catcher decorations – the nativity scene photocopied onto transparency and set in a card star frame. The picture was coloured with marker pens and the child was given a sucker hook to hand the light catcher in a window.  These options were not anything like as popular as the cookies! Last year we went back to cookies after I appealed the decision to ban them. Having a good track record and rapport with the organisers helps.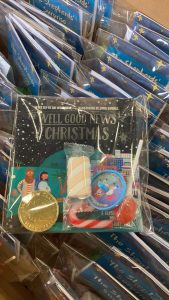 Story by Angela
We thank New Lynn Bible Chapel for sharing their story and these fantastic ways of putting the Nativity story right in the centre of Christmas.
How many of these ideas could you put into action in your city or town?