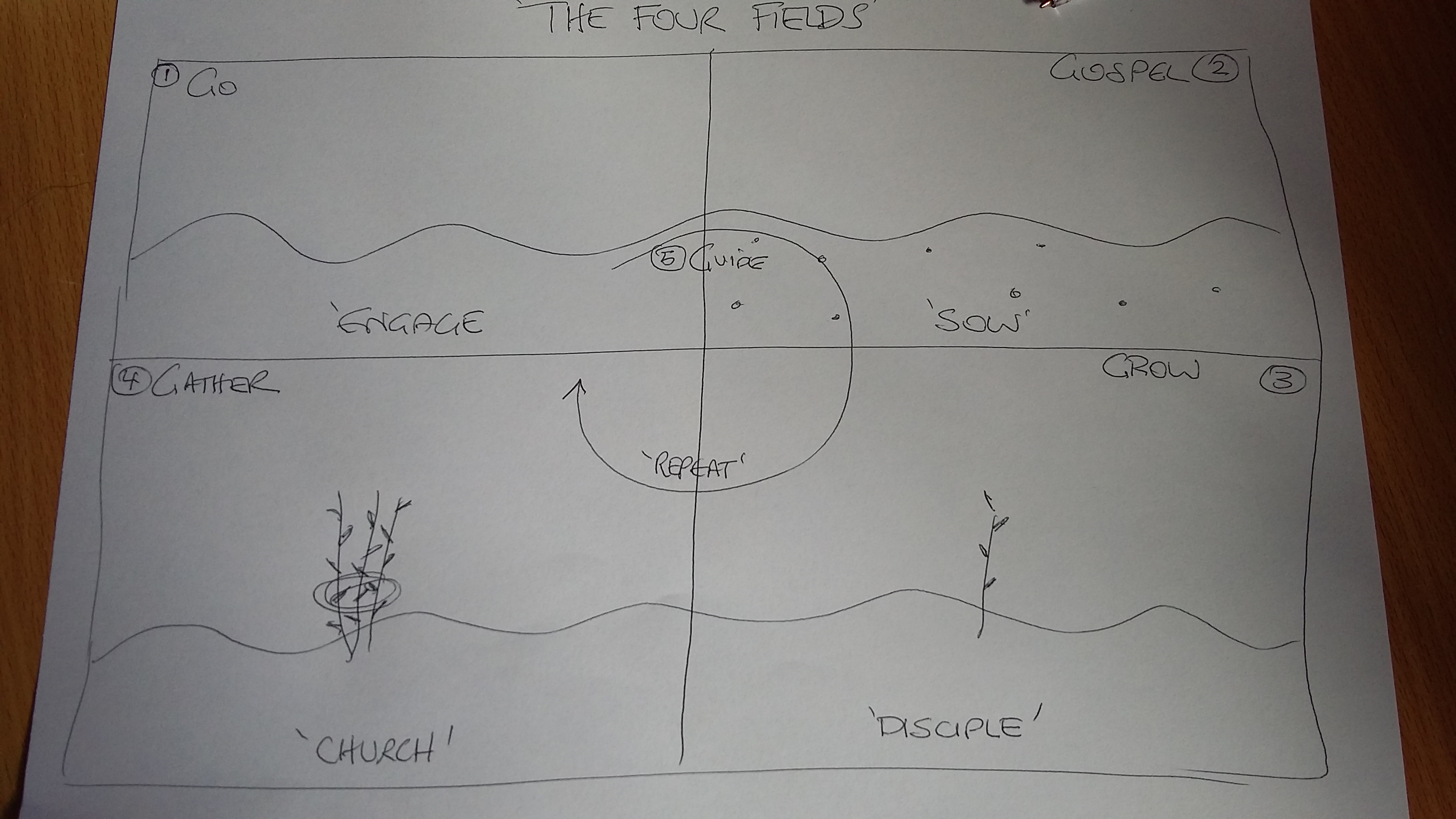 09 Mar, 2016

The Four Fields – Part V (How to create a simple discipleship pathway)

Over the last five months I have been sharing with you an in-depth look at what was a two minute presentation a young man gave me last year. After introducing the diagram as 'The Four Fields' and drawing a rectangle and dividing it into four equal rectangles, he labelled the top left box with the word 'Go' explaining the need for the Church to 'Engage' a lost world. He then labelled the top right box with the word 'Gospel' and explained the necessity of sowing in order to reap and he wrote the word 'Sow'. And now we come to the third box on the bottom right and side.
Grow!
He wrote on the top right hand corner of the third box the word 'Grow'. He then drew a small shoot coming out of the field which he a drawn earlier on. He then wrote underneath the shoot the word 'Disciple'. He went on to say, "As we go and engage a lost world (pointing to box one), seeding it with the gospel (pointing to box two), we can anticipate a return which needs to grow through discipleship."
With that he moved to the fourth box, but I would like to pause here and reflect on this third box.
The Lord of the harvest said "They that sow abundantly, reap abundantly" – 2 Corinthians 9:6. Every farmer knows that a harvest follows well prepared soil and sown seed. Twelve years ago I was part of a 'Church Planting Movement' in Myanmar that saw twelve churches become one thousand churches in three short years. Since then that number has doubled every year. There are ten common characteristics of every Church Planting Movement and they are…
Prayer
Abundant Gospel Sowing
Intentional Church Panting
Bible Focussed
Local leadership
Lay leadership
Meeting as cells
Churches planting churches
Rapid Church Growth
Functioning as churches especially in discipleship
You can watch a short video presentation on CPM's at http://www.imb.org/resources/embedvideos.aspx?mvid=2109#.VtTQ8Pl97cs
Paving the Way
An intentional discipleship pathway is needed if any church is going to grow from incremental to multiplication. There are a growing, and it would seem, never ending number of resources available when it comes to discipleship, but I would suggest the following when it comes to creating your own discipleship pathway.
Simple
Is the pathway simple to understand and follow? Are the resources appropriate and applicable? Can anyone use them or does it require higher learning or special gifting. When it comes to discipleship resources I recommend a back to basics, absolute minimum skeleton. Ask yourself, 'What are the six to ten absolute minimum things a new believer needs to get a handle on right from the beginning?' You don't need ten verses that say the same thing when one will do.
Reproducible
The discipleship pathway you create needs to be easily modelled and followed by novices. Can a child re-teach this? Can someone who is functionally illiterate use this tool? (We have an increasing population of people who fit into this category.)
Transferable
Is the pathway dependant on financial investment and therefore a potential barrier to those who have limited resources? Could you go viral with those resources? Do the tools you use traverse culture?
Story Walk
When I was involved in Myanmar we designed a simple ten part discipleship pathway based on ten stories from the Bible, each story introducing a key theme. Ten pictures representing those ten Bible stories were produced on an A4 sheet of paper which became the curriculum for disciplining new believers. We wanted it to be simple, reproducible and transferable, and to my surprise it not only worked dramatically there, assisting in significant kingdom advance, it worked in New Zealand.
I have seen that little A4 paper resource used in teaching children, new believing adults, long term followers, small groups and even larger groups. We now call this little tool 'Story Walk' and information about it and how to use it can be obtained through the author.
Russell Watts
New Zealand Baptist pastor, Russell Watts, realised that if his church was going to grow, it would be through equipping his people to reproduce through intentional evangelism and discipleship action. Free resources are available on his churches website… http://www.ranuibaptist.org.nz/ . The rest is history. His church is wonderfully growing through conversion and discipleship momentum.
The Ten Day Challenge
I highly recommend our web based evangelism and discipleship video resource called 'The Ten Day Challenge' https://10daychallenge.co.nz/; supported by 'The Cornerstone Discipleship Series'. https://alltogether.co.nz/discipleship-videos/ . These are Simple, Reproducible and Transferable!
The Ten Day Challenge is a cutting edge, up to the minute, New Zealand made resource that can either be done as an individual or in small groups of two to ten. Kiwis have been coming to Christ through this tool as friends have been simply sitting down over a coffee, chatting over the content of the five minute video and handful of questions. It ticks all the boxes. Please take the time to do it yourself. I think you will be sold on it. We provide business cards to give to interested people who might want to take the up The Ten Day Challenge and explore the Christian message.
The Cornerstone Disciples Series is a growing bank of five minute teaching videos designed to help address questions and build belief. Made by kiwis for kiwis! Click, watch, discuss, pray.
Where to from here?
Without an intentional pathway for people to tread, you may well loose sight of those who begin the journey but become confused as to what follows. God's 'Four Fields' includes intentional environments for growing new believers. Regular church attendance may be helpful, but it can never replace the dynamic impact of one on one or very small group discipleship.
Take the time out to 'Pave a Way' for those in your church and those still to come. May you have much fun and fruit in God's third field of the harvest.
TONY COLLIS. Tony's ministry experience includes national ministry as an evangelist and as the National Director of OAC Ministries. He also has experience in church planting, including being part of a church planting movement netting one-thousand churches in three short years. He is an author, promoter of evangelism and mentor to evangelists scattered throughout the country, as well as heading a network of national evangelists and being Vice-President of the New Zealand Association of Evangelists.