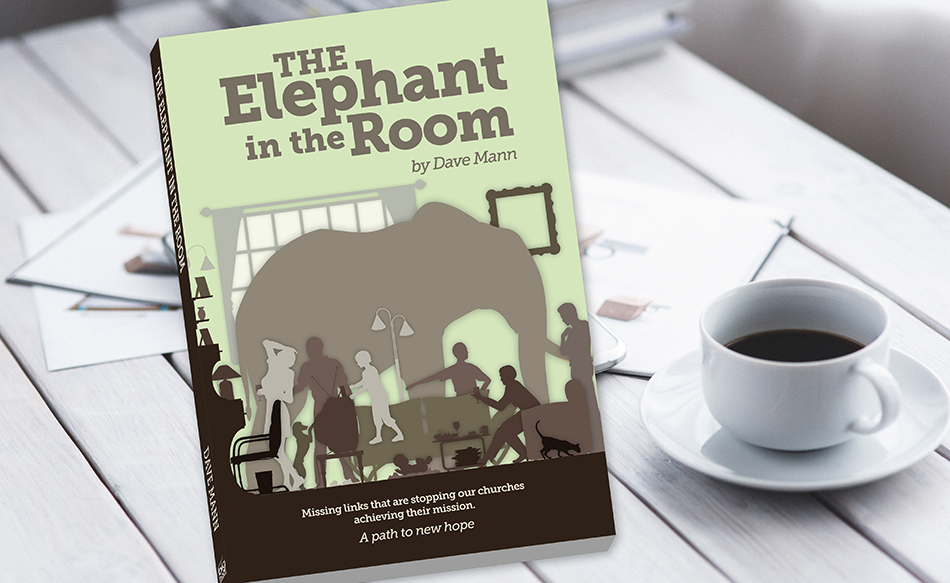 27 Jul, 2015

NEW RESOURCE-The Elephant in the Room by Dave Mann

I was excited when I first picked up the newly printed copies of 'The Elephant in the Room'. So many churches are struggling with evangelism, and the question is, 'Why?' 'What is going on?' This book articulates what I believe is happening in the New Zealand Church.
An outline:
This book is a challenge to church leaders and thinkers. It addresses an area of neglect that many seem disinterested in discussing: Evangelism is often in the 'too hard basket' in our churches, yet it is integral to our mission. It's the elephant in the room!
However, this book is only written because of a belief that there is hope. Specifically, it puts solutions on the table that I believe could remedy the current situation. This is a big claim!  The solutions I propose are  profound – yet simple. They are about principles, not programs. They are about adaption to our current culture (both in church and society) – rather than replication of approaches created for a former culture. And I believe they will release many onto a path of discovery at the end of which there will be increased positive results!
What people are saying:
Tony Collis (Hope Centre, Levin) says: "I believe pastors and churches throughout the country will one day thank God for the day this book came into their hands."
Keith Harrington (Taupo Baptist) says "I believe Dave Mann to be one of the clearest thinkers concerning evangelism in New Zealand today." 
Alan Vink (Executive Director, Willow Creek Association) says "…we face a crisis of confidence in the gospel in New Zealand… Dave understands our context, and in a thoughtful and insightful way he addresses these challenges."
Lincoln Rout, Director of International Teams NZ and elder at Rutland St Church (Christchurch) says "Every Church leader and Christian who has the courage to read this book will…find herein some very significant insights on how to effectively re-engage with that mission.
The basic idea is this:
If our behaviour comes from our thinking, and we want different results, could it be that we need to think differently?
Why the book was gifted to pastors via the Hope Project Ministers' Association 'Vision Tour' (paid for by the Shining Lights Trust)
All pastors who attended the 70 ministers' association meetings we (Tony Collis and Dave Mann) presented in throughout the nation  received a copy of this book for free (while others can purchase it for $20 – inc gst and post in NZ, from BigBookPublishing.co.nz).
This was done because interest in fixing this problem is not high (hence why its called 'The Elephant in the Room'), and because it is the nature of culture to self-replicate and self-sustain. Current thought patterns sometimes need 'interrupting' to create space for new ways of thinking!.
The book is suggesting that we need to establish a different cultural expression in our churches in the area of outreach, with different founding values. While our churches talk often about the Great Commission (Matthew 28) and the mobilisation of the saints to ministry (Ephesians 4), I humbly suggest that our current model of activity with regard to outreach and evangelism is not actually founded upon these values. They are values in our theology, but not our practice. Changing culture is not easy. Often new approaches cannot be practiced until the vision of the changes they could bring about are 'seen' and understood (i.e. thinking precedes doing). Seeing a new way is not easy, because our minds are naturally preoccupied with, and prejudiced towards, our current way of doing things.
To quote from the book regarding the problem it seeks to highlight and address:
Pg 21 – "Until we accept that there is a significant problem here, and that we are responsible to address it as current leaders in our nation's churches, very little will change!"
Pg 20 – "Could it be that we are so involved in the current model that we have not stepped back to recognise that we are in a model, or that our model has deficiencies – and that we might therefore be in need of a (new) model as a result?"
Pg 70 – "Effectiveness may not come by intuition because of our cultural lenses…identifying the way forward is not easy!"
Pg 121 – "The mission of any organisation should be the primary focus of its activities. When an organisation deviates from its mission it is the role of the organisation's leaders to return it to its right and needed focus."
The book then (through the middle pages) outlines 12 missing links – each of which is a challenge to our current thinking and approaches; each of which is like a key that can unlock a door to a new way of thinking and behaving.
Then, once read – and assuming the values and principles are making sense – the book connects the reader to a new initiative called 'All Together Consulting' (or AT Consulting for short). This can be found via a webpage at AllTogether.co.nz (our church resourcing website). Beyond saying change is needed – and explaining some of the needed principles behind the change (which is what the book does), we are sincerely seeking to empower church leaders with practical leadership strategies that can work for them – backed up with resources and support, so they can bring the change!
Concluding word
Are you happy with the current 'results' of our outreach efforts? Most NZ churches don't see a single person choosing to follow Christ in a given year — is that ok? Most church members are evangelistically inactive – and even the word 'evangelism' conjures up negative thoughts and feelings. Might change be needed? …And for the big question: Might God consider it unacceptable that many of our churches might be failing in their mission?
These are heavy question — but important ones. I believe there is a new way forward. Please consider it.
DAVE MANN. Dave is an Author and gifted communicator with a passion for the Gospel. This passion started when he came to faith at age 11. After Secondary School he went straight to Bible College, followed by 7 years in outreach ministry in New Zealand, then nearly 9 as a pastor in Singapore, before returning to New Zealand at the end of 2011. Dave is a visionary and fearless about pioneering initiatives aimed at helping the Church in New Zealand in the area of its mission. Author of various books and Tracts including "Because we care", "That Leaders might last", "The Elephant in the Room" and available free on this site: "The what and how of Youth and Young Adult ministry".