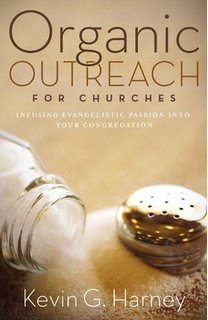 11 Apr, 2016

Organic Outreach – by Kevin G Harney
Book Review – Organic Outreach by Kevin G. Harney
Published in 2011 by Zondervan this 192 page book is a must for every church leader. Kevin and his insights have already been influencing New Zealand churches effectively increasing intentional and real evangelistic momentum.
The sub title is 'Infusing Evangelistic Passion in Your Local Congregation', and for those who read and heed its simple insights, it will do exactly that.
Each chapter builds on the other offering practical steps for walking out the principles and ideas presented.
In the Introduction Kevin states, "Organic outreach is what happens when evangelistic vision and action become the domain of every ministry in a church and the commitment of every member of the congregation."
Kevin reminds us that loving God, the World and the Church is where we need to start from. He then introduces "Seven Simple Mind Shifts That Unlock Outreach Potential' and 'The Six Levels of Influence: Mobilizing the Whole Church for Outreach'. Through the book his experience as a local church leader and as a motivator shines through. His suggestions and concepts are practical, insightful and do-able.
The One-Degree Rule and The Two Degree Rule, which he introduces and expands is worth the price of the book all alone. Increments and degrees can catalyse significant momentum.
He finishes the book with a discussion concerning innovation and then leaves us to do exactly that.
A key premise
…is that all leaders need to regularly consider how they could do more to reach out to others through their ministry. As everyone begins to ask this question, the culture of the church begins to become more conscious of its mission – and all programs more conscious of how they can contribute toward this one main thing that we are called to do.
Another of his key points
…is of the importance of having a person appointed in a church who is responsible for leading the outreach focus of the church. This could be the pastor – or another person in the leadership team, but they must have influence, and heart to give diligence to their role. Their chief role is to regularly touch base with the various leaders to see what they are doing to encourage outreach to happen, and the consider creative ideas with them. His book goes into considerable detail on this point – but the principle is clear.
The two degree rule
Regarding outreach, the 'two degree rule' regards how we might use the ministries we already have to connect with more people. For example, if we take meals to people in our church who are unwell (or who to mothers who have just had a baby), could that ministry be extended to take meals to people our members know who are unwell… yet who are not yet part of our church? Through these kinds of creative approaches our connections to the unchurched can be increased with very little extra work needed – and everyone benefits, because involvement in it also bring life and joy to a Christian's life and faith!
Read it and reap!
TONY COLLIS. Tony's ministry experience includes national ministry as an evangelist and as the National Director of OAC Ministries. He also has experience in church planting, including being part of a church planting movement netting one-thousand churches in three short years. He is an author, promoter of evangelism and mentor to evangelists scattered throughout the country, as well as heading a network of national evangelists and being Vice-President of the New Zealand Association of Evangelists.