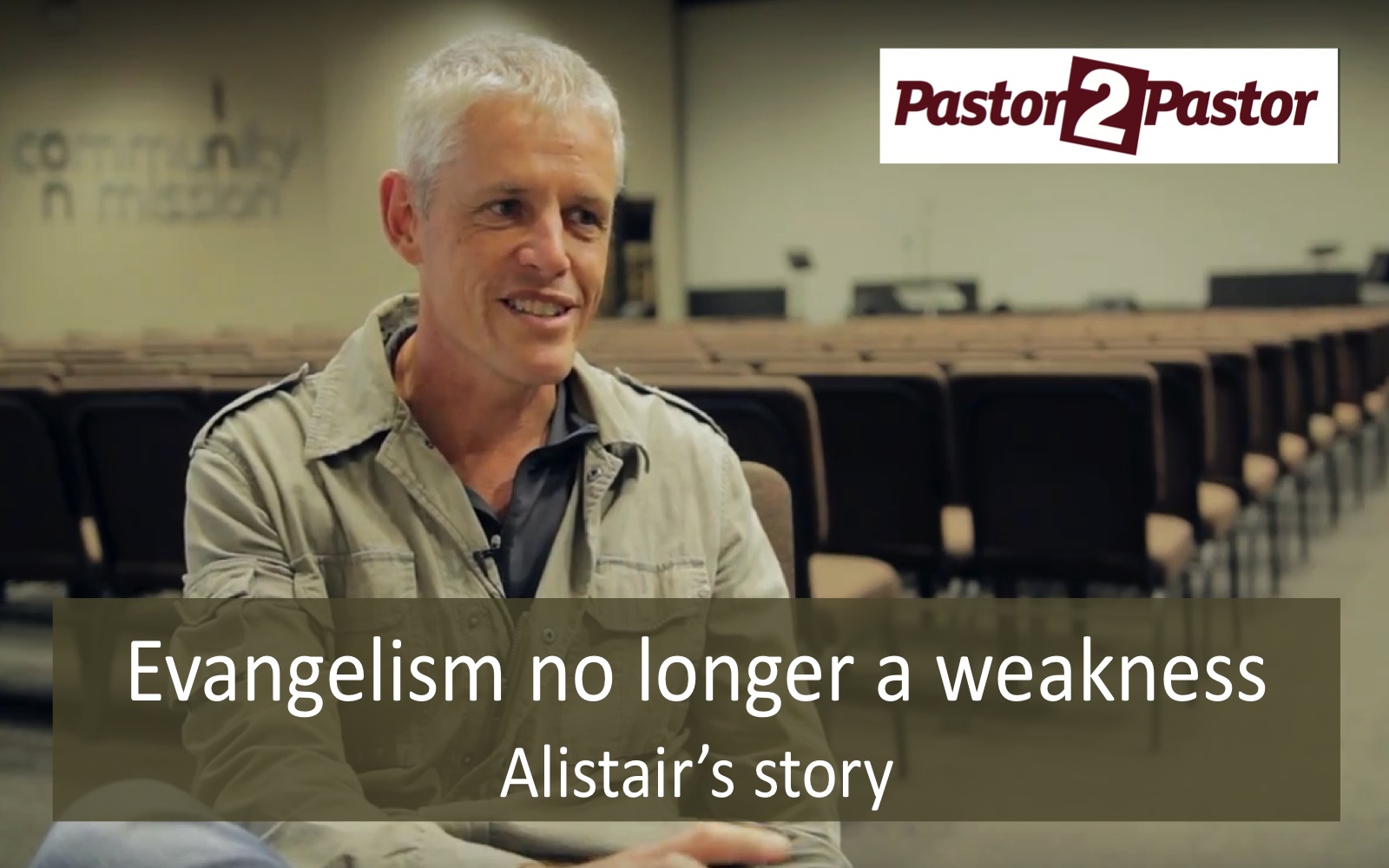 01 Aug, 2016

Pastor2Pastor – Alistairs story – evangelism no longer a weakness
THE BACK STORY
As a back-story to the above, over the past few years Ps Alistair gave considerable intentionality to the equipping of their members for everyday spiritual conversations. Their outreach equipping was intentionally done through the pulpit and small group – because they new seminars could not mobilise all their members. Their content was intentionally primarily about the conversational style, because they knew most members would be put off not only by the more 'confrontational' approach of the past – but also by the perception of any connection to it.
THE STORY CONTINUED: WHAT HAPPENED NEXT
On a Sunday they invited children aged 8 and over to stay with the adults in their services. Then, using a simple gospel drawing (similar to the one found here), Alistair showed everyone how to share the gospel. They then practiced in pairs – and then he then got an 8 year old to come up and demonstrate how it could be done. He then demonstrated how you could tie your testimony in with the gospel presentation – and everyone practiced that in pairs too.
FIRST RESULTS
During the above Sunday service one person, after his partner had demonstrated how to to it, asked his partner if he was a Christian yet. The guys wasn't, and came to faith there and then.
By the Thursday, church members were already contacting them to tell them their stories. Members were sharing the gospel with others – including an eight year old who had shared with her grandad.
Encouraging!
(Looking forwards, because they understand that things are quickly forgotten, they plan to have this demonstration repeated from time to time, to help it stay in long term memory).
A STRATEGIC OBSERVATION:
THE IMPORTANCE OF CHANGING CULTURAL PERCEPTIONS OF 'EVANGELISM' 

FIRST
This equipping only took place for them after having already given about three years to building an authentic outreaching culture. During this time members were equipped with conversational skills (via sermon applications), so they knew how to engage non-threatening two-way spiritual conversations with multi-religious New Zealanders.
To note it, this recent service wasn't the first time they had equipped their members to share the gospel. Alistair said to me, with a laugh, that they'd done this before – but the reactions to this training showed that hardly anyone remembered this.
So, what was different? If people are sceptical of evangelism training and you then teach them what the gospel is and how to share it, you will smell like the 'old approach' that they are sceptical of (and possibly with good reason).
However, if you reshape the culture (with a conversational approach suiting our times) – and THEN teach them more fully how to share the gospel, it is received within the new paradigm – and therefore received favourably!
Encouraging!
DAVE MANN. Dave is an Author and gifted communicator with a passion for the Gospel. This passion started when he came to faith at age 11. After Secondary School he went straight to Bible College, followed by 7 years in outreach ministry in New Zealand, then nearly 9 as a pastor in Singapore, before returning to New Zealand at the end of 2011. Dave is a visionary and fearless about pioneering initiatives aimed at helping the Church in New Zealand in the area of its mission. Author of various books and Tracts including "Because we care", "That Leaders might last", "The Elephant in the Room" and available free on this site: "The what and how of Youth and Young Adult ministry".