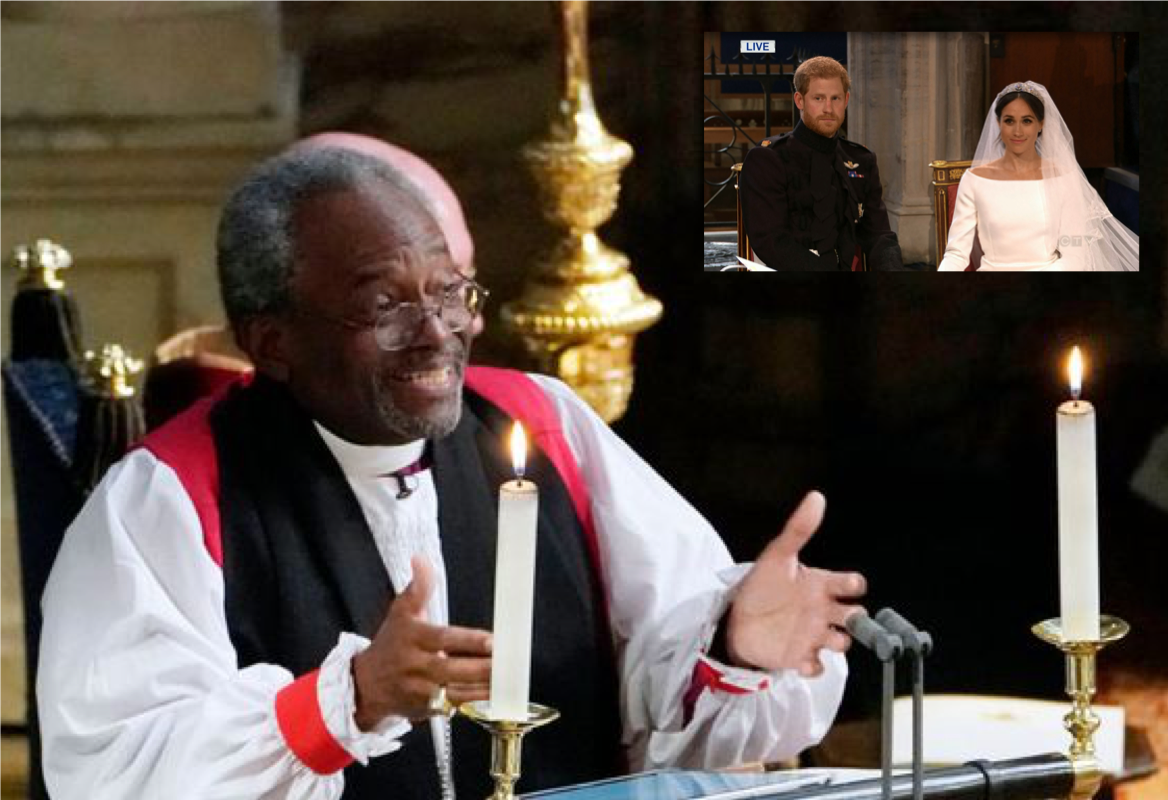 21 May, 2018

Royal Wedding preacher – largest audience ever

What would you say if you were to preach at the Royal Wedding – in a context of Christian formality, yet with a significantly secular audience? Well – little-known Bishop Michael Curry just pulled it off, and with what was possibly the largest audience listening to a single sermon in history.

I see benefit in reflecting upon what just happened, because the voice of the Church in New Zealand is remarkably silent in the public square, when it may not need to be.

As a little disclaimer, I note that this is a reflection on the message, not the man. Curry's personal views don't match those of Anglicanism globally, or of evangelical Christianity. However, his communication skills were superb.  Let's reflect together briefly on this.
Possibly the biggest sermon audience EVER
Billy Graham preached in person or via television feeds to 210 million people. German evangelist Reinhard Bonnke, would have preached to many more than that due to developing technologies. However, I suspect that media just put Michael Curry past even Bonnke's audiences. The BBC estimate Curry to have just preached to a global audience of more than 1.9 billion people – and growing, because he has also became an internet sensation.
I'm reminded of when Shadrach, Meshack and Abednigo refused to worship the idol, and were saved by God from the fire. As a result a decree was sent throughout the Empire and God's name honoured beyond all anticipation. The same happened in the account of Esther. Ordinary people can sometimes walk into extravagant opportunities.
Who is Michael Curry?
From a quick search online, the Most Reverend Michael Curry became the first black presiding bishop of the Episcopal Church – like the Church of England, part of the Anglican Communion – when he was appointed in 2015.
A man that related
Speaking off-script, and freely in a typically conservative English environment, he evoked many a smile from the congregation present, and captivated global audiences. The public reaction is surely a case of both the man and the context. Curry's natural American warmth was greatly amplified by the context he was in, of a traditional Anglican Royal British wedding!
A message that related
He honoured American traditions, like with quotes from Martin Luther-King – and yet knew his global audience, and stayed 'on script' in terms of knowing that that audience would relate to. Love and justice, love and marriage, love and poverty, love and sacrifice, love and hope. One question as a preacher is what will relate?  Curry nailed it.
A message that did not compromise Christian beliefs
Curry referred freely to Jesus Christ, saying, "Jesus had founded the most revolutionary movement in human history: a movement built on the unconditional love of God for the world and the mandate to live that love." He spoke of the cross, and Christ's sacrifice. While sensitive in manner, he did not compromise Christian beliefs in an effort to appease secular audiences.  Yet still, audiences warmed to him. This deserves reflection.
Yes – Curry the man will be widely considered by many Christians to have compromised Christian beliefs, but it's equally true that many in the secular public audience also disagreed with his Christian beliefs. My point here is that all of our reactions were to what he said and how he communicated on the day – and it was superb!
Authenticity is also a growing value in the West, because we get so many media messages trying to sell us things. By being true to himself while in a foreign environment, and relaxed, people respected Curry, even when they disagreed with his Christian beliefs. And because his manner included no tone of coercion, they didn't feel tension with these areas of disagreement either. They took from the message what they wanted. Yet, the rest of the message was still there to be heard by those with ready ears.
How does this apply to communication in Kiwi-land?
I personally believe that many Kiwi Christians are misreading their own cultural context with regard to religious things. Many  feel we cannot speak of Christ in public places – while the opposite can be true. There are remarkable opportunities around through which faith-filled messages can be ruled!
Authenticity rules the roost these days. The question is one of manner and context. Consider how our Kiwi secular newspapers freely publish what we'd call Christian testimonies as articles from time to time. They are not threatened by Christian faith or belief. It's about the tone!
What content might achieve the same connection in the Kiwi context?
While a theme like love is universal, here in the Kiwi context I note that we have three considerably endearing areas of story that secular audiences do warm to:
(1) Stories from our global heritage – as it relates to our nation's most treasured values (freedoms of speech and religion, equality of races and genders, education, health car concepts of charity, etc…)
(2) Stories from our own nation's bicultural journey – which similarly brings great esteem to the Christian faith
(3) Stories from today of people who's lives have been transformed by the love and power of God through faith in Jesus.
However – to note it, Curry wisely avoided these sorts of stories because his audience wasn't only Westerners. For example, to tell the above global stories would esteem the West, or to tell too many stories from the histories of either England or America would likewise alienate other global/ non-Western audiences. He was wise!  However, we'd be misreading culture to do the same when speaking at, for example, a school or civic event in a local New Zealand city or town.
In summary: Great communication Curry!
Let us be encouraged that Christian messages are STILL acceptable in secular places – and can even be LOVED by secular audiences. The question is one of approach and tone.
May God give us wisdom to know how to engage with message of his love and hope in the public square.
DAVE MANN. Dave is a creative communicator with a vision to see an understanding of the Christian faith continuing, and also being valued, in the public square in Aotearoa-New Zealand. He has innovated numerous conversational resources for churches, and is currently coordinated a 4th nationwide multimedia project purposed to help open conversation between church and non-church people about Christianity and the way our nation's most treasured values have come from it. Dave is the author of various books and booklets including "Because we care", "That Leaders might last", "The Elephant in the Room", and available for free on this site: "The What and How of Youth and Young Adult ministry".