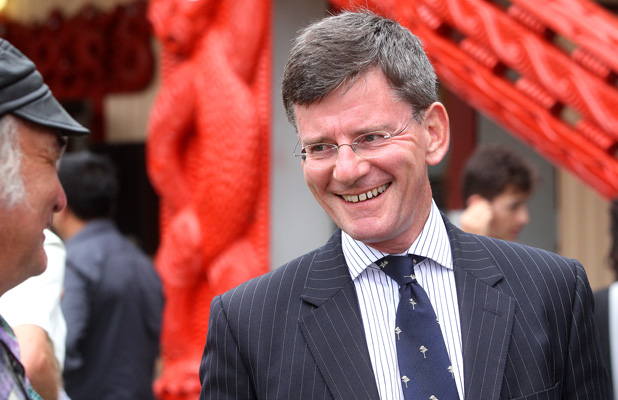 10 Jul, 2015

Chris Finlayson's Gospel-Bicentenary Speech

A friend emailed this to me. I thought this concise speech was worth a post because of the breadth of perspective it brings to the kind of world we lived in back in 1814.

The following speech was delivered by Hon Christopher Finlayson QC, Attorney-General, during the Gospel Bicentenary commemorations held at Oihi in the Bay of Islands, Christmas Week 2014. It should be an encouragement to Christians in all walks of life to know and tell our Christian story.

1814 was a very interesting year. The most noteworthy event was the abdication of Napoleon as Emperor of the French on 11 April, preceded a few days earlier by the Bourbon restoration. George Stephenson tested his first locomotive, Blucher, successfully in England. Pius VII re-established the Society of Jesus all over the world. Some here may say that was a very bad move by His Holiness; others, including me, say it paved the way for the election of Francis, the first Jesuit pope.

The British continued to have a bad time in the United States. On September 13, their failure at the Battle of Baltimore was a critical turning-point in their war with the Americans. The American defence of Fort McHenry inspired Francis Scott Key to compose the poem later set to music as The Star Spangled Banner.

The year ended with the Congress of Vienna, which sought to settle many issues arising out of French Revolutionary Wars and the Napoleonic Wars. Schubert's First Mass and Beethoven's Eighth Symphony had their premieres and, on 25 December, just down the path from here, Samuel Marsden brought Christianity to New Zealand.

As we all know, Marsden introduced to New Zealand what is arguably the gentlest form of Christianity: Anglicanism. Shortly thereafter, the Catholics arrived bringing French Catholicism and, some years later, Irish Catholicism.

With settlement came the dour Scots and Presbyterianism. Then the social justice advocates, unimpressed with establishment Christianity, who brought first Methodism and then the Salvation Army.

And this introduction of various forms of Christianity continued into the twentieth century. Orthodoxy came with our first Greek immigrants and in due course the Serbs, Romanians and Russians. Most recently, the Assyrian Christians, uprooted from their homelands by extremism, have brought their religion and liturgy spoken in the language of Christ.
This [the Christian heritage of New Zealand] is a rich and interesting story and it is not recounted enough.
Despite the odd outbreak of sectarian hostility, the churches have worked pretty well together over the years. I think of the first parish priest of Saint Mary of the Angels in Wellington, who conducted funeral services for the Presbyterians at St John's in Willis Street when their minister was absent. Today, St John's gives its church to St Mary of the Angels' parishioners so they can celebrate Mass while their church in Boulcott Street is repaired.
All these churches continue today. Many appear to have fallen on hard times. They seem lost and perplexed by the modern world. They try to adapt, not always successfully. For me, the Judeo-Christian tradition, which Marsden inaugurated on Christmas Day 1814, and which has continued to this day, is underscored by four main points:
First, that the individual is made in the image of God and that, accordingly, everyone has worth.
Secondly, that one should respect individual effort and creativity, a key idea, particularly following the Reformation and the Enlightenment. In medieval times, and even in some corners of Christianity today, independence of thought is not cherished.
Thirdly, that a successful society is one governed by laws, not men and women – that we are all subject to the rule of law no matter how powerful or how rich. An ancient value, admittedly, but one reinforced by the Reformation and the American Revolution.
Finally, above all, the Christian message is a very optimistic one. It is a story of reconciliation and forgiveness.
As Pope Francis recently told the Council of Europe, in order to progress towards the future, we need the past, we need profound roots. We either preserve a country's foundational being or it dies.
I am pleased to be here today and, to use an overused word, 'celebrate' the arrival of Marsden and Christianity into New Zealand because the Christian message he introduced 200 years ago has been positive for this country and is one which must be repeated with optimism and conviction year in and year out.
The Christian churches should be proud of these traditions and their message; they do not worry about reinventing themselves and trying to be relevant. Of course they have to adapt to changing times, but they can and must hold fast to unchanging principles and have the same gritty determination of Samuel Marsden.
This is a great day for New Zealand.
DAVE MANN. Dave is an Author and gifted communicator with a passion for the Gospel. This passion started when he came to faith at age 11. After Secondary School he went straight to Bible College, followed by 7 years in outreach ministry in New Zealand, then nearly 9 as a pastor in Singapore, before returning to New Zealand at the end of 2011. Dave is a visionary and fearless about pioneering initiatives aimed at helping the Church in New Zealand in the area of its mission. Author of various books and Tracts including "Because we care", "That Leaders might last", "The Elephant in the Room" and available free on this site: "The what and how of Youth and Young Adult ministry".