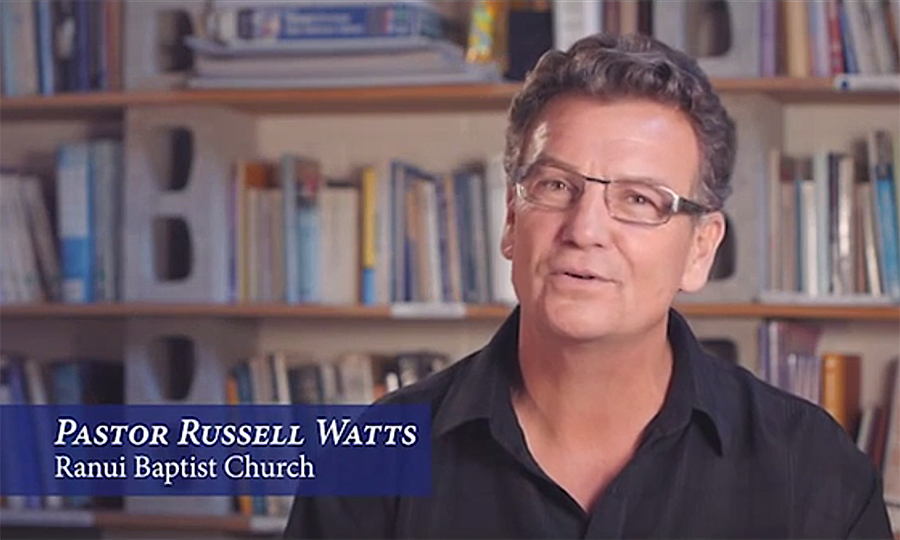 25 Jun, 2015

Surprised by Ranui

I just met with Russell – the pastor of Ranui Baptist. This church is rare in that people are choosing to embrace Christian faith there regularly, and the only 'strategy' apparent is that the members and their small groups have caught a passion for encouraging faith through their conversations, telling their stories while being proactive in meeting felt needs . This stands in contrast to the attractional and motivational dynamic of larger churches.

What surprised me? Firstly, Russell did! I've watched pastors experience success, and it has seemed to me that their attitude often changes. They go from 100 to 200, or 200 to 400, and it is maybe only human to become more self-assured, confident that we have the correct perspectives, and to thus lose the same openness to a learning conversation. There is a certain air of 'professionalism' that comes with a 'successful' pastor – yet when I met Russell he was wearing an oldish fleece sweatshirt. When we talked he didn't come across as having all the answers. We all know the saying, 'From one beggar to another'. When some people say it, it sounds like they are trying to sound humble. When Russell said it, it was sincere.

But what stood out was that they have no events or large programs at which he gospel is preached, and yet people regularly come to faith. Their approach is ALL about the relationship and conversation that the member has – with the small group dynamic intentionally included. Even discipleship takes place in this context. A stand (with three shelves) at the back of the church provides a range of resources, including teaching DVDs, booklets about faith, and studies on the basics of the Christian faith – and these resource need re-stocking each week because members take them, because there is a regular flow of friends who want something to read and learn from! If we look around our nation, it is generally only the larger churches, like well-oiled machines, who are seeing regular salvations. Their efforts are based around developing corporate momentum, channelled into the big weekend service. The preaching of the gospel is to the crowd – and the role of members is to invite. But here it was different. For a first time in NZ I saw a working model of what I was involved in in Asia – with the equipping and mobilisation of the individual as a focus, along with the intentional training and focussing of the church small groups. Most New Zealand churches don't see a single new believer in an average year (beyond the children and youth of the church families). The model of our nations bigger churches won't work in a small to medium church – because smaller churches don't have the same attraction of the 'crowd'. I expected to meet more of a 'professional'. Instead I found a 'man of the streets' who has a passion for Jesus and has successfully mobilised his members to make the difference.

A few of Russell's tips: For Russell, its about avoiding too much of a focus on the sinners prayer – instead being very diligent to check that a person who wants to start the Christian life (1) understands who Jesus is, and (2) is willing turn from any ways that they are in that are wrong according to God's standard (repentance). If this is the case, they (3)  baptise them immediately (yes – on the week day, with a couple of people who are at the church at that point in time joining) and (4) pray that they be filled with the Holy Spirit. There are considered reasons for each of these 4 emphasis'. They then focus on (a) getting a new follower of Jesus involved in serving God in a ministry of their choosing within about 3 weeks, and also (b) immediately involved with a church small group. He said it is amazing how many people who were new to the Christian faith had an immediate vision or desire to serve God in their community in some way. They see more than 75% of those who respond go on to stay in the faith. Those who are aware of the drop-off statistics of many of our larger outreach events will appreciate just how remarkable this is.

Regarding their small groups, Russell is practising the same principles that we've been 'harping on about' when discussing the vital role that small groups play in the local church. At Ranui, their groups start with a ministry focus or goal (i.e. they do not exist without one). The things they do are varied – embarking on a chosen 'mission' of some kind to help families or the community  or people in the church. They also start with a set time-frame that they feel God would have them serve in this area. When that time is up they discuss whether they should continue or break up as a group – at which point they then look for others to start a new small group to serve in a different area. Fellowship, love, caring, prayer, encouraging devotional lives etc… all happen in these groups. The mission of the Church is thus recognised as being legitimately and correctly the same mission for church small groups, for all Christians, and for Christian families – and they've built a dynamic within which this is working!

I was surprised by Ranui – and it was a great surprise!

There is hope for medium and small churches. There are timeless and transcultural principles that work. Our outreach cannot be all about the big event. It is about equipping and mobilising the members both individually and in relational teams, to connect with people, to show love and to intentionally 'witness' / tell the story through conversation as they do.

DAVE MANN. Dave is an Author and gifted communicator with a passion for the Gospel. This passion started when he came to faith at age 11. After Secondary School he went straight to Bible College, followed by 7 years in outreach ministry in New Zealand, then nearly 9 as a pastor in Singapore, before returning to New Zealand at the end of 2011. Dave is a visionary and fearless about pioneering initiatives aimed at helping the Church in New Zealand in the area of its mission. Author of various books and Tracts including "Because we care", "That Leaders might last" and available free on this site: "The what and how of Youth and Young Adult ministry".