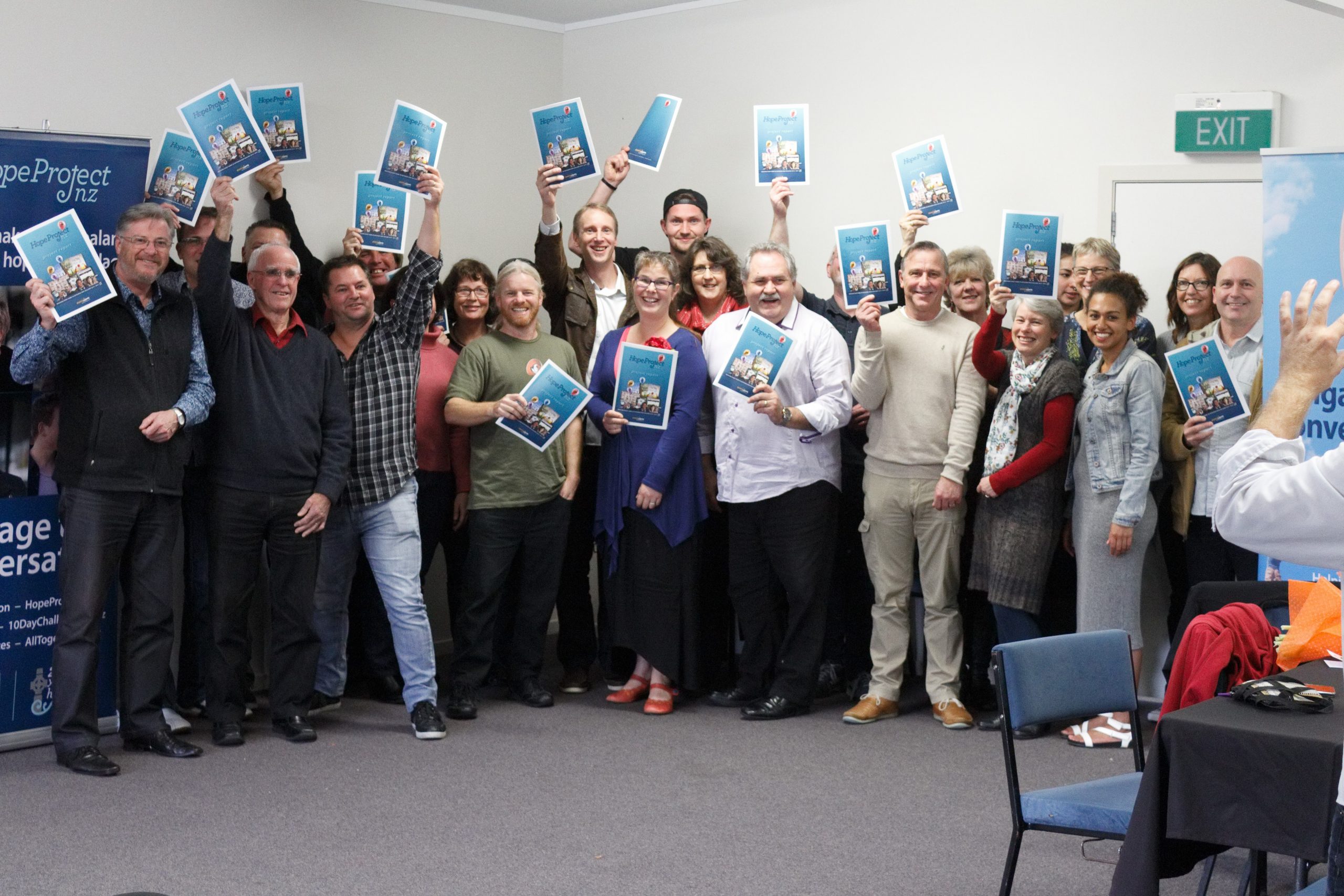 20 Jun, 2016

10 top-line achievements of the Hope Project

An effort spanning more than five years is now over. The Christian message was taken to a nation through secular media – while a message on the importance of engaging in non-threatening two-way spiritual conversations in every-day life was taken to churches throughout the nation. What happened as a result?
BOOKLETS: The gospel went to nearly every NZ home (1.4m homes) three times
WEB: Online engagement was positive 70,000 people engaging across three websites, an ongoing audience of 10,000 at the Hope Project FB (with individual post reaches ranging from 2000 to over 63,000), with the majority being non-churched people (as evidenced by their selections of content).
UNITY: In terms of church unity, 650 churches formally partnered – with many more churches aware and 'softly' engaged through connection to 70 ministers' groups spread across the 70 largest cities and towns in our nation. 1240 people subscribed for prayer updates. 1320 people 'liked' the All Together NZ Facebook page. More than 1600 donors supported – about 1200 of whom were individuals. Partnering churches spanned from Kaitaia to Invercargill. By the end of the project, at a para-church level, 16 outreaching organizations were quite quickly ready to partner together to launch a national evangelism conference (EngageConference.nz), with others committing to partner in future years.
EQUIPPING: In terms of equipping, 80% of the 650 partnering churches intentionally equipped their members, resulting in more than 50,000 members equipped…
LEADING: …by their pastors (not just a visit from a guest speaker)…
APPROACH: …for a conversational outreach approach (as contrasted with the more traditional 'truth-confrontational' approach) …
PLATFORM: …through the main weekend service (sometimes then also intentionally reinforced through the small group). These points are listed individually because of their potential for long-term strategic impact if these actions are continued.
INDIVIDUAL EFFORTS: Church people gave Hope Project booklets to people at the doors of more than 50,000 'no circulars' homes for each of the three phases of the project – with an astounding 64% of partnering churches saying they had members who took booklets to 'no circulars' homes. With 160,000 spare copies of each of the three booklets sent out upon request we've seen Christians finding new confidence due to the quality of the materials, resulting in booklets being used in town parades, on shop counters, in op shops, by Mainly Music groups, with prison chaplaincy, hospital chaplaincy, and many more.
FINANCES: With a starting proposed budget in 2012 of $2.4m, the Lord raised $2,399,500 for $2,398,500 of expenses, with the project's accounts formally opened in May 2012, and closed on 31st May, 2016. The Shining Lights Trust was thus positioned to continue ongoing efforts encouraging churches with no liabilities.
TEMPERATURE CHANGE: The project started with a recognition given from both national and local church leaders that 'evangelism' was generally in the 'too hard basket' in the NZ Church. By its conclusion many hundreds of churches felt new hope regarding evangelism. (In the end-of-project survey the average partnering church giving themselves 6.1/10 in answer to the question 'are you more evangelistic as a result of this project?'). In many churches even the word evangelism shifted from being somewhat 'taboo' to commonly used. Many pastors are considering continuing the motivational and equipping patterns they
In addition to the above, we received thousands of emails. It is clear that many thousands of sceptics have become seekers, many seekers believers, and many believers disciples and ambassadors of Christ. No-doubt, stories will be discovered for years to come.
In conclusion, could it be that the new hope within churches is the most significant outcome? This is the belief of the team, who are committing the next five years (under the 'AllTogether.co.nz' banner) to serving local churches and ministers' groups, with a view to helping the habits that many church leaders and members began to continue. A similar strategic approach is being used as was for the Hope Project from 2012 onwards (see the five year plan at AllTogether.co.nz). Through this, their belief is that the 'gospel temperature' could continue to increase, with continuing measurable outcomes in cities and towns from Kaitaia to Invercargill.
[Please view a copy of the final Hope Project report via the homepage at AllTogether.co.nz, or  at AllTogether.co.nz/hopeproject]
More is possible than we can imagine. May we serve God well in the mission He gave us.
Dave Mann
Hope Project Coordinator
Director, Shining Lights Trust
DAVE MANN. Dave is an Author and gifted communicator with a passion for the Gospel. This passion started when he came to faith at age 11. After Secondary School he went straight to Bible College, followed by 7 years in outreach ministry in New Zealand, then nearly 9 as a pastor in Singapore, before returning to New Zealand at the end of 2011. Dave is a visionary and fearless about pioneering initiatives aimed at helping the Church in New Zealand in the area of its mission. Author of various books and Tracts including "Because we care", "That Leaders might last", "The Elephant in the Room" and available free on this site: "The what and how of Youth and Young Adult ministry".