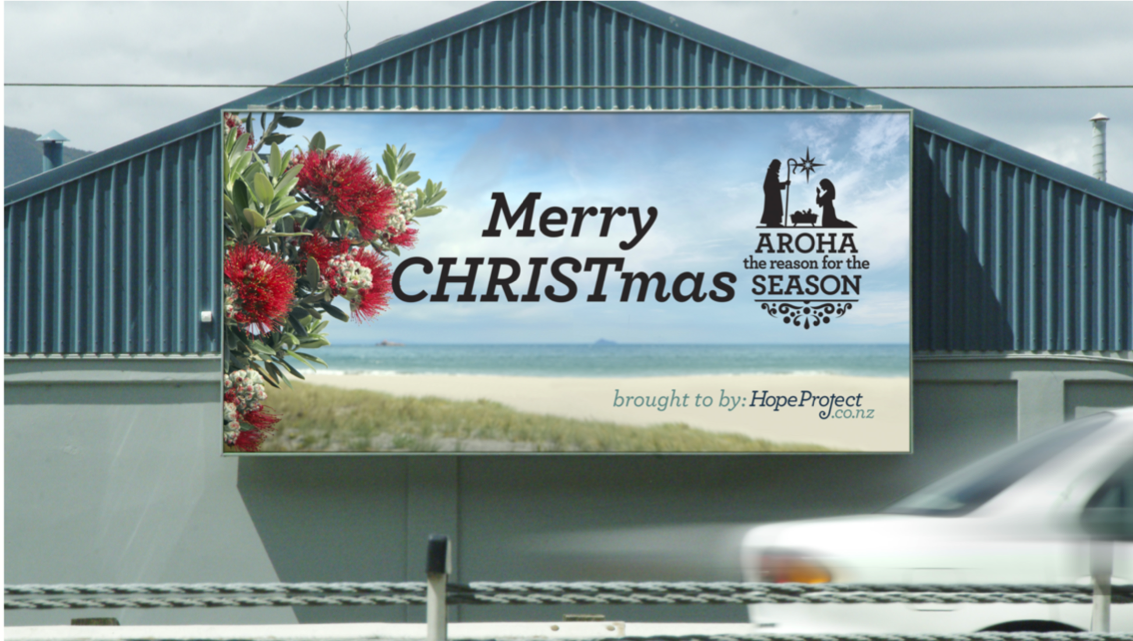 04 Sep, 2019

20 Ideas for Christmas
20 Ideas for returning CHRIST to CHRISTmas
Hope Project Christmas is encouraging all interested persons to help return nativity scenes to Christmas, in view of their ongoing removal throughout New Zealand.
This article is an invitation to you to join us in some simple efforts that could work together to bring nativity scenes back into view. We are aware in the nativity story naturally springs from and will be retained in Christmas through this.
Here are some ideas.
Purchase and use nativity-related Christmas cards. Many shopping chains, $2 shops and Christian book stories stock them (Find links at AllTogether.co.nz/Christmas).
Post nativity-related pictures or videos on social media when saying 'Merry Christmas' (Download graphics we supply for free at AllTogether.co.nz/Christmas).
Include elements from the nativity scene in your Christmas decorations. When purchasing Christmas decorations, seek them out. Business functions on the principles of demand and supply. Help to recreate the market for them.
Include nativity scenes in lighting displays in your windows, or in front of our house if this is your tradition.
Buy large nativity set that will stand out to place on your lawn (Find links to online stores for garden nativity scenes at AllTogether.co.nz/Christmas).
Those with businesses return nativity imagery to their decorations, lights and decal (Download graphics for decal, poster designs and more at AllTogether.co.nz/Christmas).
Businesses return Christmas carols with nativity-related lyrics to their playlists if they have been removed.
Church small groups run relaxed year-end social celebrations to which friends are invited, respectfully including nativity imagery, and the story that springs from it.
Businesses, churches and individuals put up billboards that include nativity imagery (Download billboard designs – which we can edit for you upon request, at AllTogether.co.nz/Christmas).
Promotions you create for your Christmas events intentionally and prominently include nativity imagery, rather than 'Santa' imagery, bells, snow and the like.
Churches, whether individually or together, seek to facilitate community Christmas and Christmas carol gatherings that esteem family and community, while respecting the actual Christmas tradition and history of our nation.
Churches unite to create children's Christmas gifts or Christmas food parcels for families – and gift them to families they know, or alternatively work with an organisation like Oranga Tamariki to empower them to give gifts to families they work with (this already happens in a number of areas in our nation).
Churches are diligent to be participants in Christmas parades, maintaining a respectful nativity-related New Zealand perspective within them (Examples of floats created by churches in NZ will be posted at AllTogether.co.nz/Christmas).
Use and gift the 'NativityChristmas Tree' by the Baptist Children and Families ministry to friends and family (find via AllTogether.co.nz/Christmas).
Gift 'The First Kiwi Christmas' illustrated history story for age 5-7 from Big Book Publishing (find via AllTogether.co.nz/Christmas).
Use 'Advent Calendars,' like one that is created by Laidlaw College, or various Advent Apps from your app store (encourage friends to participate – use social media).
Starting on the evening on December 1st, you can read a chapter of the gospel according to Luke. There are 24 chapters so one can be read each night throughout December and by the time we reach Dec 25th we will have a wonderful understanding of the birth and life if our glorious redeemer, Jesus. (Thanks Liz Akers for this suggestion!). Don't forget to share your personal insights during this time of reflection.
Give the bicultural Christmas workbook/magazine for children from Maori Postal to children – and offer it to local schools. Who knows – they might accept! (Find link via AllTogether.co.nz/Christmas).
Find other children's resources for your Sunday School or others from Scripture Union, Bible Society and others.
Support the Hope Project – realising that a simple TV and digital effort could connect potentially create nativity impressions with as many people as the above combined– while being part of a wider strategy to have Christian messages heard, and the story of Christ's influence in our nation's bicultural and values history known again publicly also, in tandem with all the above at Christmas, just as also for Easter.
Find weblinks to most of the above, including various free downloads of graphics, poster and billboard designs and more…  at AllTogether.co.nz/Christmas.
Donate to support Hope Project Christmas at AllTogether.co.nz/donate.
The lesson?
There are things we can do together that we cannot do apart.
The New Zealand Church has the capacity to see Christ retained in Christmas in this nation – but only if we have a vision for this, and will work in unison toward it.
Together we can!
Let's unite in this simple vision to see Christ returned to Christmas!
DAVE MANN. Dave is a creative communicator with a vision to see an understanding of the Christian faith continuing, and also being valued, in the public square in Aotearoa-New Zealand. He has innovated numerous conversational resources for churches, and recently coordinated a 5th nationwide multimedia Easter project purposed to help open conversation between church and non-church people about Christianity take place, including regarding the specifically Christian origins of many of our nation's most treasured values. Dave is the author of various books and booklets including "Because we care", "That Leaders might last", "The Elephant in the Room", and available for free on this site: "The What and How of Youth and Young Adult ministry". Married  to Heather, they have four young boys and reside in Tauranga, New Zealand.