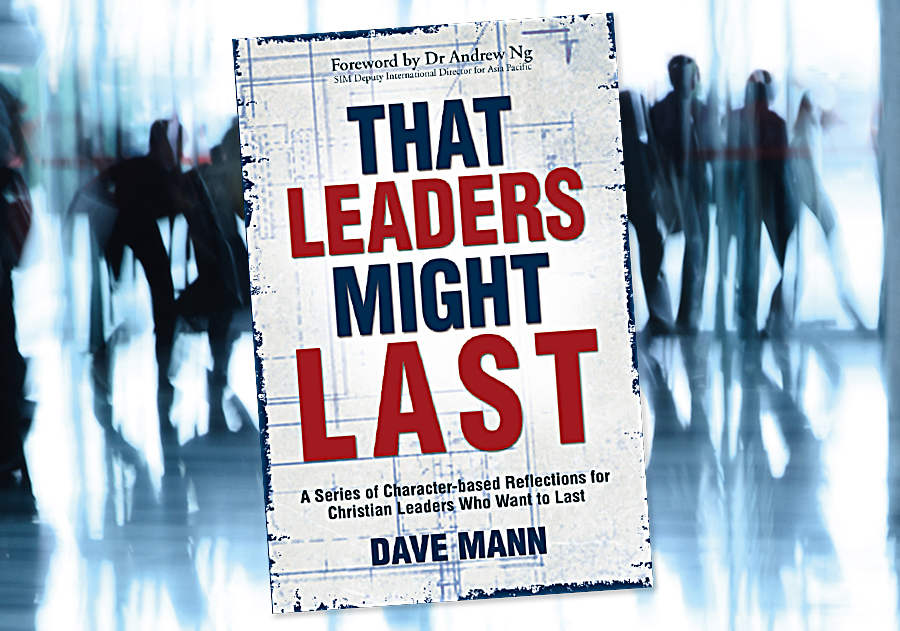 05 Nov, 2010

Book launch: 'That Leaders Might Last'

Yesterday was an exciting day for me. My first book was officially launched, being published by Campus Crusade for Christ, Singapore (and the place looked good, thanks to my wife, heather, plus the food good, thanks to Selena :-).

(see details of the book contents on the back cover above. Five references for the book are also at the bottom of this email – for those looking for them)

Where this book came from

I never set out to write a book. Rather, having been asked to share devotions at a missionary gathering I accidentally discovered I had a lot to say on this topic. Here's the gist of what I shared yesterday at the book launch…

(Note, there are five references for the book at the bottom of this email for those wanting this.)

[The first recognition of the issue]

When at bible college in about 1992 I recall Rowland Croucher of Australia talking in a weekly chapel service. He ministers to ex-pastors, ex-missionaries, and their spouses in Australia. He estimated at that time there were maybe 10,000 of these in Australia alone. However, what was shocking news to me was that, at that time, about 50% of these were not even attending a Church. He proceeded to tell us – statistically (not prophetically) speaking – where we 300 students would be in 5 or 10 years time, the challenges we would have faced, how few would still be in ministry in that short time, how those who left full time service would be feeling, how few might be even attending a Church… It was shocking to me, and this became an immediate passion – but at 20 years or age or so I didn't really have much authority in that area.

[My own experience]

However, just over a decade later – after 10 or 12 years in ministry – all that changed. Circumstance (the details of which I cannot share) came about which stretched my emotional strength to its breaking point, and I began to feel for the first time in my life that God was maybe not being faithful to me. This doubt in my heart played havoc with my confidence and emotions, and my life – which up until then had been largely characterised by purpose and peace – turned to one of turmoil. I thought many times of leaving Christian ministry, because the emotional energy it demands felt too great to continue giving out. Preaching was especially difficult, as I would preach of the faithful God I believed in, and yet in my heart struggled in the same moment with the doubts I felt about His faithfulness to me in some intense and prolonged circumstances.

Thank God – I got through it. It took about 2-3 years to get through the worst of it, and – at the other end – I found I had an (unfortunate?) empathy with the struggles and emotions that many of those who step out of ministry might feel.

How do we get more people to last longer in Christian ministry?

[The problem stated]

In my estimation and observation it takes an average person – irrespective of age – about 5 years to really gain the basic perspective and skill base for leading any particular ministry, whether that is a pastor with a congregation or a 'lay-minister' with a Church small group. If the average person only lasts about that long, the problem is obvious (we have a continuous lack of experienced, 'matured' spiritual leadership in our Churches)!

How can we get people to last?

[The premises of the book]

The basic premises is that THE GRACE OF GOD IS SUFFICIENT. If this is the case, then – if God calls us to a thing – it must be possible to accomplish it!

Therefore, if we cannot accomplish it (or sustain ourselves in it) there are only two possible conclusions. Either (1) God is actually being unfaithful (which I do not suggest 😉 or (2) or we are somehow not positioned to receive the all-sufficient grace of God offered to us. This is what I DO suggest! Somehow – on a law of averages – our personal relationships with God are simply not sufficient as 'conduits' (pipes) for receiving the necessary 'amounts' of Gods help and wisdom and strength when the very real challenges of Christian ministry mount.

Thus, could it be that we (the Christian Church of today) do not really appreciate what it is to have a true and living relationship with God in the way that the Bible teaches? Could it be that our 'form' of Christianity is actually more compromised than we comprehend, and that this deficiency in depth and commitment and zeal is the root issue?

I mean – how important, really, is our personal spirituality? Whether our answer is 'important' or even 'very important', I propose in the book that the answer is 'more important than we think it is' (chapter 7) – because, otherwise, so many would not be becoming overcome by the pressures of Christian work.

Thus, in the book, we reflect on Jesus, and consider His example.

For example, did He ever feel discouraged? In chapter 1 we look at the last supper where the disciples argued about who was the greatest, Peter points to a sword (still thinking Jesus' Kingdom was one to establish by military means), and we discover that Judas will betray Jesus, and ALL will deny Him. Wow! How did Jesus manage to deal with that? He is our GREAT role model – our GREAT example – yet, with all of the 3 years given Him to disciple those 12 men, He seemed to have failed completely!

For example, did Jesus experience conflict (as many do in Churches – and all organisations)? We consider in one chapter how He had to FLEE from Judea because of the assassination attempts, and see Thomas' words when they return to that area "…let us go with Him that we may die with Him also." The conflicts were intense to say the least. How did Jesus handle these without becoming overwhelmed? (see chapter 9, and chapter 10 to reflect on 'Jesus on the attack', for He strangely [boldly / madly?] caused at least as many conflicts as He was the unfortunate recipient of!)

And – did Jesus ever feel overwhelmed? We consider over the course of three chapters the three reasons we see in the gospels for which Jesus retreated from the crowds.

Did He ever feel fear? Certainly – for who could look at the terror of the cross, and the unique prospect He had of separation from His Heavenly Father, without fear? Yet – how did He overcome? How was He 'positioned' to receive the needed grace in that hour to continue and triumph?

So, all the way through, this book points you to our main Man – our role model – the one we are supposed to be becoming like – Jesus, our Lord, Saviour, and example!

It is not a book on the theory or psychology of 'burn out', or any such thing. It is a book that looks to the Bible at the practical, spiritual solutions!

This is NOT a book to give someone to encourage them to start serving God!…

…rather this is a book to give to those already serving God, to encourage them to persevere and overcome.

Being my first book, I do not know how many will sell, but have chosen before the journey began to never worry on that 😉 …however, I do believe many will be blessed by it – for it is the same thoughts that blessed, strengthened, and challenged me as I struggled my way through a season of doubt and overwhelming emotion. By God's grace, I overcame in that battle!

I'd like to thank…
1.Mr Chen Hui Lin of CCC for publishing this – thanks for taking a risk on me and the book!
2.Ps William and Bartley Christian Church – I have been the recipient of so much grace from my Church. At one point I really needed a break to clear my head – there was no 'sabbatical' policy, but our Senior Pastor made one, and I received a 6 month long paid sabbatical! My Singapore Church has been soooo generous toward me. I am truly grateful for this! Without their grace, generosity and support I may not be still serving God 'full-time' today!
3.All our friends who have encouraged us along the way, and especially my wife, to whom this book is dedicated. I love you all – but especially my generous, kind, patient and graceful wife 😉 I am a blessed man!
If you wanted to purchase… (??? 😉
One day I'll hopefully have the book up for sale via this website, or a link, but for now you could contact me for details, or – if you are in Singapore – get along to the Campus Crusade for Christ bookstore.
My feelings – and to Bartley's youth and young adults…
I'm VERY blessed that something I have written has been published – and not least because it enables me to leave behind an extra 13 'sermons' to all those I've loved and been able to be a part of discipling at Bartley (I love you guys more than you know – and will miss you!).
May we all grow to love and know and seek and trust Jesus more than we do already – and may we there-in find his all-sufficient grace for our 'hours of need', that we would all last in the high call of Christ.
This book exists 'That Leaders Might Last'!
🙂
——————————————————————————————————————————-
What others had to say about this book…
Pastor Dave is a leader who is passionate about ministry and the unfinished task of reaching the world for Christ. I highly recommend this very readable book where you will receive encouraging insights from Pastor Dave's life experiences and learn how you can last the distance by keeping your eyes on Christ and imitating Him.
Ps William Lee
Senior Pastor, Bartley Christian Church, Singapore
Dave's reflections are based on personal experience, observation, research and bible study. The result is a thoughtful, grounded and, at times, provocative appeal to be committed to a lifetime of mission.
Mal Green
Long serving staff and National Board member of
Incedo Inc (Youth for Christ), New Zealand
This is a very timely book. As the title suggests it looks at one of the great problems currently facing the Church – the dropping out of leaders. Dave answers this in a practical and spiritual way, focusing principally on the life and teaching of the Lord Jesus Christ. I recommend it for those who are finding the going difficult, and for group discussion amongst Christian leaders.
Rev Terry Smith
Lifelong Baptist Pastor (NZ, UK, South Africa)
I have known and observed Dave for many years, and have watched him struggle and grow as he sought to take what was in his heart beyond mere desire. In his book, Dave challenges us from the Scriptures that, while it may seem simplistic, it is indeed possible to survive in Christian service if we can let God be truly God.
Rev Arthur Barnfather
Long serving Presbyterian Minister, New Zealand
"Faithful, biblical Christian discipleship must always be the defining characteristic of godly Christian leadership. The reader will find a treasure store of linkages to these two disciplines of discipleship and leadership in this book. Dave Mann writes from his deep conviction and experiences in his ministry and personal experience."
Daniel CH Wong,
Home Director, OMF Singapore Ltd

DAVE MANN. Dave is an Author and gifted communicator with a passion for the Gospel. This passion started when he came to faith at age 11. After Secondary School he went straight to Bible College, followed by 7 years in outreach ministry in New Zealand, then nearly 9 as a pastor in Singapore, before returning to New Zealand at the end of 2011. Dave is a visionary and fearless about pioneering initiatives aimed at helping the Church in New Zealand in the area of its mission. Author of various books and Tracts including "Because we care", "That Leaders might last" and available free on this site: "The what and how of Youth and Young Adult ministry".