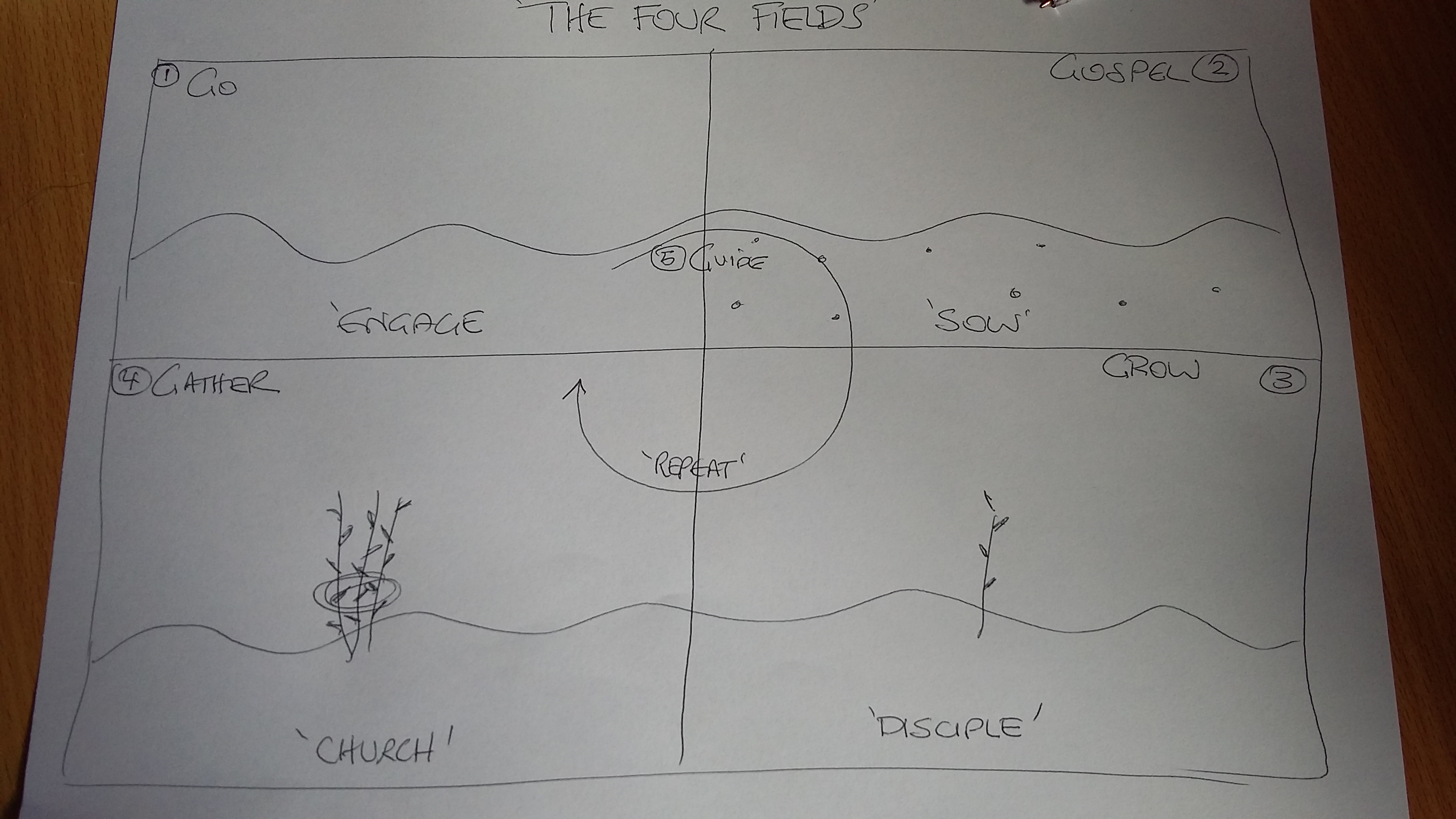 09 May, 2016

The Four Fields – Part VII (The importance of the dream)

The final part of the presentation that was given to me mid last year by the impassioned young evangeliser is the content of this month's post. You will need to read the previous posts to make sense of today's.
Re-explaining the diagram
Having helped me to understand that God is calling His Church to function in the four fields of (1) 'Going', (2) 'Gospel Seeding', (3) 'Growing through discipleship' and (4) 'Gathering' in either churches or small groups; and that such activity done well promises serious additional growth for the kingdom of God; my new friend introduced me to an unexpected 'Fifth Field' in his 'The Four Fields' Presentation.
"Tony", he continued. "There is a fifth field God is calling us to work in and it is this one." With that he went to the centre of the page and started to draw a circle starting in the box one and moving through two, three and four finishing half way through box four with an arrow at the end. He then wrote the word 'Guide' at the top of the partial circle and at the bottom of the partial circle wrote the word 'Repeat'. He then said, "When we' Guide' our new and gathered disciples to 'Repeat' this process with others, we can begin to embrace real potential for multiplication". With that he tipped the page on its side, turning the centre addition sign into a multiplication symbol.
The fifth field: Moving toward multiplication!
When a church grows through serious addition, every church leader wants to know how. Most pastors and ministers feel frustrated with the lack of real kingdom growth in their churches. Most denominations are shrinking with few churches in New Zealand growing through conversion and discipleship. Transfer growth masks what can often be signs of critical inertia. Churches would be ecstatic with addition momentum. Denominations would be applauding such growth… but, even if we began to break this devastating inertia by effectively functioning in the four previous fields, the addition would only impact small segments of our nation, leaving the Great Commission challenge to 'make disciples of this nation' undone.
Only a serious commitment to move towards multiplication will be good news to our nation and to the kingdom of God. Multiplication has always been the dream. No church leader dreams to have the same size church in ten years. No denomination aspires to maintain the line for the next decade. No passionate leader gives their lifeblood for no growth.
At Creation God said to his children "Be fruitful and multiply and fill the earth." At the Ascension Jesus said "Go into all the world and make disciples of all nations!" Multiplication is the empty kingdom field in our country and invites serious followers to work there.
The great potential of intentional equipping
The key to multiplication is equipping those who were 'recently harvested' (new believers) to work in the harvest. The quick enlistment and equipping of new believers makes the pathway to Fifth Field activity simple, reproducible and attainable. Guiding your new believers to be active in all four fields is critical to attaining the dream of multiplication. Sadly, our models for such equipping, enlistment and activity are few and far between. We desperately need some up to the minute 'Fifth Field' workers, leaders and churches.
An opportunity: During September 2-3 2016, we are running a conference called 'Engage' in Tauranga and the purpose of this conference is to explore both serious addition activity for kiwi churches and the dream of multiplication in ministry. Plan to come and bring with you your key evangelism people and leaders. You will find the conference empowering and practical. Book in your seats now so as not to miss out on this significant event which is being done with the partnership of fifteen New Zealand organisations and key New Zealand leaders.
Dream again!
As I come to the end of this seven part discussion with you, I invite you to dream again of multiplication. Don't lose heart. Don't settle for maintenance or marginal addition. Don't let transfer be the reward. Lead your people into 'God's Four Fields' but make the 'Fifth' your goal and destination. Dream again of a church that is (1) going; (2) gospel seeding; (3) growing disciples; (4) gathering and finally (5) guiding the new believers to repeat the process. Understand that this is already happening in some nations around the world where multiplication has unleashed its power among joyful peoples. It's time to tip our churches on their sides so we can reach our nation for Jesus Christ.
Multiplication awaits bold leaders who will give up the distractions and lead their people into 'God's Five Fields'!
TONY COLLIS. Tony's ministry experience includes national ministry as an evangelist and as the National Director of OAC Ministries. He also has experience in church planting, including being part of a church planting movement netting one-thousand churches in three short years. He is an author, promoter of evangelism and mentor to evangelists scattered throughout the country, as well as heading a network of national evangelists and being Vice-President of the New Zealand Association of Evangelists.