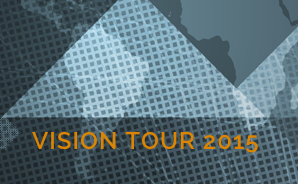 09 Jul, 2015

You won't want to miss what's next!
Did you catch the last of the TV ads for Phase II?
Online interactions are growing and people are still engaging. A pastor just shared about a man he prayed for, who immediately came to faith. He gave the man a Hope Project booklet. By the next time they met the man had found 10DayChallenge.co.nz and was working his way through the discipleship tutorials. God is at work!
YOU WON'T WANT TO MISS THIS: Your invitation to the FREE 2015 Vision Tour
Dave and Tony are travelling to your towns to speak to you and your local ministers' groups in this years Vision Tour. With over 70 places to go to from Kaitaia to Invercargill, they will be travelling from August to October.
Click on the map to check their schedule, get to a meeting (maybe have a coffee, lunch or dinner with them while they're around) and share the general invite to other church leaders in your area.
We're really looking forward to this and to sweeten the already sweet deal  – they come bearing gifts!