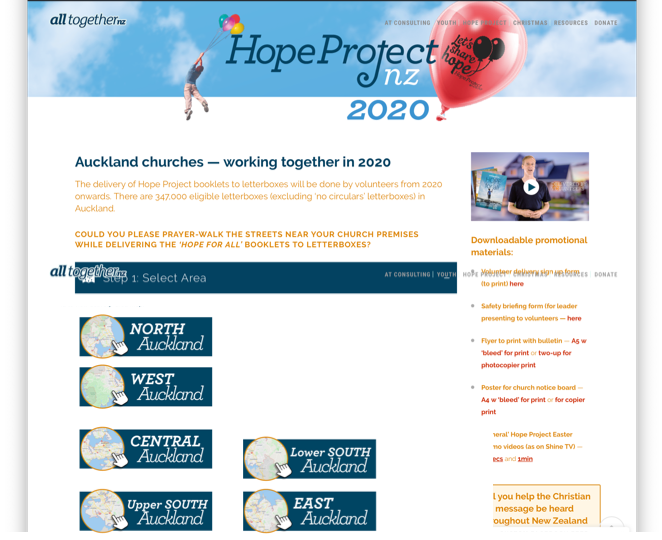 06 Jul, 2020

Story – The Auckland Story 2020

I thought I'd post a few stories from the recent Hope Project booklet delivery – as achieving a volunteer-based delivery to so many homes was a bit of a miracle.

My point in sharing each story is to raise a question about our unity and how it works – or to encourage faith.
WHY A VOLUNTEER-BASED DELIVERY, AND HOW ON DID AUCKLAND GET DONE?
The background – Why a volunteer-based delivery this time?
When the Hope Project was first initiated, our intent was that booklets be delivered by volunteers in the main cities and towns.  However, in 2012, upon discussing this with pastors' groups, it was clear that churches were not ready for this or willing to do this. We moved to paid delivery as a result.
Following the financial deficit of Hope Project Easter 2019 the Shining Lights Trust board asked, On what basis do we continue? To summarise the conclusion – the booklet was shortened, and the delivery in the largest 70 cities and towns (1,080,000 homes) shifted to be volunteer-base. But the purpose was not only to save costs. The results would include:
Increased prayer – through combined Church prayer gatherings + the prayer walking
Increased unity – as churches worked together on something practical that they held in common
Increased conversational outreach equipping – because more people were involved, raising the profile of this important matter
More people being a witness – because involvement would catalyse conversations.
Regarding our public engagement –  nothing was changed. The project continued to likely be the widest-reaching gospel effort in nearly all (if not all) cities and towns in the year.
The reach of TV was the same (though greater for other reasons this year)
The reach of the booklets the same
Online reach increased – following a pattern of improving strategies, along with the effect of the CoronaVirus.
However – with all of that said, the real reason for the decision is a sensing that God was leading us this way. The above is the rationale of it. Prior to this decision, making it a volunteer based delivery was no longer a goal we had. In our hearts, we somehow changed our view, and felt it was time to do this, and for reasons God was in charge of, not us.
Would a delivery to 1.37m homes actually be achieved? 
We struggled to believe it would be achieved at first. For me – I had to decide how many booklets we'd print. Would we achieve all 1.37m homes again? Or would 100,000 booklets be left over – or more? Where would they be stored? How would we get rid of them?
It then occured to me that I sensed a leading to make this a volunteer-delivery, not to deliver to less homes.  With that simple thought the decision was made. My faith was for every home to be delivered to. However, if that didn't happen somewhere, with the blink of an eyelid we'd pay for the dump fees. Solutions have to be simple!
How do you find 4500 volunteers? 
Because our work is in strategy for the Church as a whole (though this doesn't mean everyone engages with things we do – nor do they have to), we're already connected with with pastors' groups nationally. Every pastors' group we met with in 2019  (which included 45 different cities and towns) agreed it was time to make this a volunteer-based delivery. All except a small handful of these groups united to see it done together too. So – while everything takes work, the over-all effort to achieve this in New Zealand wasn't overly difficult.  The real challenge was Auckland! 
Auckland pastors' understood this challenge. Yet in all the pastors' groups we met with in 2019, they too ALL agreed it was the right move. Some were, however, honest to say they doubted it would be achieved – but principle of it was right still, and the attempt worth it.
With 347,000 homes in Auckland to deliver, how would it happen?
The Auckland journey 
Our team is based in Tauranga.
A start
One of our regional reps is Linden – a visionary retiree on the North Shore of Auckland. He stated that he had felt God's prompting to take this delivery on, and to believe for its completion. In other places around New Zealand similar things happened. Christchurch is be another notable example. But Auckland is 3 times bigger!
Another volunteer, Peter, then joined Linden. Peter is a full-time care-giver for his wife, who is unwell.  Together they sought to connect with pastors' groups, including Chinese, Korean and Saman pastors' groups etc…
Unity networks not working as a net
By December we understood that the unity networks of the city didn't yet have confidence to do things for the city as as whole. The task was too daunting. No one wanted to accept responsibility. Few believed churches would actually rally together. We realised we needed two approaches for the national delivery. One for New Zealand as a whole, and a separate one for Auckland.  
A support team needed – from Tauranga
With no extra funds for anything, we set about building an administrative and managerial team to serve the Auckland effort. Necia served with the Shining Lights Trust for about 6 months, and it was a blessing that she was in our team during this period of time, as she has expert managerial skills. Many new systems needed creating – including new database systems, distribution and storage systems, communications and measurement systems (like ensuring every volunteer does the safety briefing) – and the development of the delivery route maps to make the organisation of the delivery in each place easier.
Most systems needed to work nationally – however a specific online map and volunteer system was created for Auckland as part of this.
Vanessa then volunteered her time – full time, to bring her expertise in databases and various web applications into our team. This was a miracle. Others joined us to help create the delivery route maps. (The map-creation started with the largest cities – and achieved the creation of delivery route maps for about 40 of the 70 places). This was a large effort to achieve 'out of the hat' and with no extra funding available for that – and God provided at every step!
To summarise – whenever we had a challenge (which was often) we looked to God without allowing anyone to fret. God would help us identify a person to ask.
Phase 2 in Auckland
As noted, pastors' groups as a whole weren't ready for this. By February 2020 only the Manurewa pastors' group had committed to deliver their area. This was a great encouragement. West Auckland pastors united soon afterwards to do the same. In nearly all other parts of the city, a different approach was needed.
We therefore mobilised 5 additional people to begin to connect with churches individually, asking if they could potentially deliver near their church, while prayer walking. This approach didn't require anyone to have faith for an area. Just to help where they were – and church after church was willing.
To illustrate how it came together:
By mid-February, hardly 10% of the city was covered – and there were just 5 weeks to go.
My mid-March, almost 90% of the city was committed to!
(Easter was one week into April)
It was in this period that we had the idea of trying to visit denominational pastors' groups in Auckland – at short notice. In Auckland, due to the size of the city, these groups function in a way that isn't true of most of the rest of the nation.
Dave called Graham Davison of the Assembly of God churches in Auckland. Together they formulated a plan in which the Hope team would give a 5min promotion before morning tea at their upcoming denominations Auckland pastors' gathering – after which they would connect with the pastors one-on-one during mealtimes. Pastors were very receptive to this. Meetings with Presbyterian, some Baptist and CCCNZ pastors'/church leaders' groups soon followed.
So – to summarise:
Phase 1 – Auckland pastors' groups (July to December)
Phase 2 – Local churches (February to mid-March)
Phase 3 – Individuals (March to June – with CoronaVirus delaying completion)
Phase 3
At the last minute the focus changed from churches to individuals – seeking people who were bold to go for 2 or 10 walks, ensuring areas were completed. New volunteers – like Raj Narayanan, the Director of Evangelism Explosion, answered the call – and helped to even drive booklets to new volunteers, so they could start deliveries. We had already seen the potential of an individual. For example, one church leader delivered the entire suburb of Epsom (2400 homes) by himself on his daily prayer walks.
Andrew Urquhart of Rhema Media offered to interview us at this time also, to give special profile to Auckland audiences. Our hope was to find individuals willing to help see areas completed. It was an incredible journey –revealing a united Church!
CoronaVirus… 
While the Coronavirus lockdown delayed the completion of the delivery for a few weeks – a remarkable story exists in what WAS achieved prior. With 40 hours notice before the lockdown we contacted all 'Delivery Coordaintors' natoinally. We estimate 70% of the homes being delivered to by volunteers were completed in those 40 hours prior to the lockdown. 
(If you want an illustration of the unity and potential capacity of the Church – there you have it!)
…and then completion!
After the lockdown God's people remained enthusiastic, and completed areas they had taken on. Just 3 areas in Auckland, representing about 100 delivery routes, remained by June. Existing contacts – along with three days of help from the HeadSpace Bible College, saw the job completed early in July.
Result
A remarkable achievement: 347,000 homes, while prayer walking all residential streets in a coordinated manner is no small feat!
An understandable challenge: While church networks in the city were generally hesitant (as compared to the rest of New Zealand), it is understandable that many were overwhelmed at the scale of it. We're not aware of there having been any similar hands-on unity efforts like this for a number of decades.
An encouraging finding: As pastors and churches were approached individually, we found them to have the same heart and attitude as pastors and church members throughout New Zealand.
A growing confidence in their potential: Certainly the potential of the united Church in Auckland – and nationally, was shown. This potential can exist and function through the efforts of individual churches and Christians – and with or without the formal endorsement of various church-related unity 'structures'! The irony is noted – and we thank God in all cases because, to us, the Church was united!
The capacity of God's Church for achieving good is huge!
Prayer: May we each grow in faith sufficient to (1) have the courage to look, see and define exactly what might be needed in our communities, cities and nation – and then (2)  to adapt and innovate the ways that are necessary to achieve it!
…because change is possible – and more is possible!
DAVE MANN. Dave is a creative communicator with a vision to see an understanding of the Christian faith continuing, and also being valued, in the public square in Aotearoa-New Zealand. He has innovated numerous conversational resources for churches, and recently coordinated a 5th nationwide multimedia Easter project purposed to help open conversation between church and non-church people about Christianity take place, including regarding the specifically Christian origins of many of our nation's most treasured values. Dave is the author of various books and booklets including "Because we care", "That Leaders might last", "The Elephant in the Room", and available for free on this site: "The What and How of Youth and Young Adult ministry". Married  to Heather, they have four young boys and reside in Tauranga, New Zealand.